21 Jan 2022
Powering the Fekola gold mine in Mali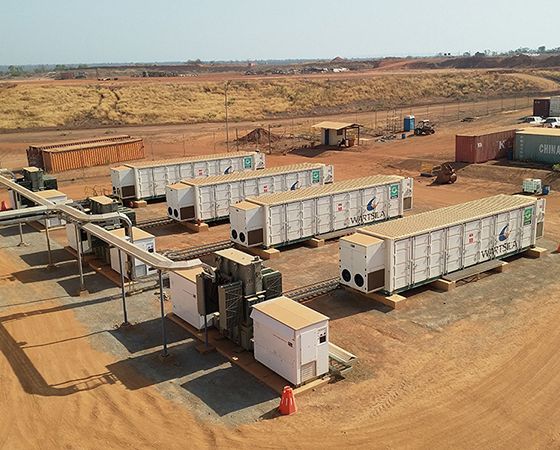 GENERATION INNOVATION & OPTIMISATION
Hybrid energy solutions together with renewables are growing in popularity for remote mining operations for both cost and environmental considerations. The falling cost of energy storage is adding another option for such hybrid systems. One of the first facilities comprised of solar photovoltaic (PV) with attached battery storage has been deployed alongside the existing fuel oil engine by Wärtsilä Energy at the Fekola gold mine in southwest Mali.
Mines are energy-intensive and fuel-dependent with high energy costs for all aspects of their business: from mining operations to the day to d y living of their workforce and transportation.
As mines are often located in remote areas at the end of the grid or beyond, they are looking increasingly to the latest technologies to ensure a reliable supply at the lowest cost, with solar and battery storage offering a new level of opportunity over the diesel that many have previously adopted.
One such mine is the Fekola gold mine located in southwest Mali, approximately 500km west of the capital Bamako and close to the border with Senegal.
HYBRID ENERGY SYSTEM
For a solution, the off-grid Fekola mine, owned by Canadian public gold producer B2Gold Corp., turned to Wärtsilä Energy, Suntrace and BayWa r.e. for a hybrid set-up. This set-up comprises a 30MW solar PV plant and a 17.3MW/15.4MWh energy storage system under the management of Wärtsilä's GEMS Digital Energy Platform to operate in addition to the mine's existing 64MW power generating plant.
The main objective of the Fekola hybrid project is to provide and maintain stability at the mine by dispatching energy storage and renewable energy generation assets with the right level of reserve.
At the same time, the hybrid approach enables the mine to reduce its dependence on imported heavy fuel oil and save on operational and transportation costs as well as reduce greenhouse gas emissions, as carbon dioxide emissions will be reduced by approximately 39,000 tons per year.
The control and optimisation capabilities provided by GEMS are key to handling the instabilities and large load step changes of the solar assets. The platform uses artificial intelligence as well as automated and forecasted data, including load demand and weather, to optimally operate the system's assets and maximise efficiency.
Overall, GEMS with its optimisation of the solar assets in tandem with traditional fuel-powered gensets is expected to deliver an average of 18% of the total power requirement for Fekola.
Hybrid systems with energy storage are ideal for providing energy stability and an overall improvement in operations for remote mining locations.
BATTERY STORAGE
While hybrid systems with storage are increasingly being investigated, Fekola's mine with battery storage is the first of its kind in Mali and at least among the first in oper ation in the mining sector globally, demonstrating the environmental and economic benefits of clean energy for mines in Africa and beyond.
A key benefit of such projects is the time to delivery, with the Fekola installation taking a year from its inception and the actual installation and commissioning completed in just a few months.
Christophe Demay from Wärtsilä, comments that some of the challenges included integrating and optimising multiple renewable assets under a single portfolio and optimising the overall energy production at such an energy-intensive operational mine.
"Hybrid systems with renewable power and energy storage are ideal for providing energy stability and an improvement in operations for remote mining locations where the conditions are challenging," says Demay.
PROJECT RESULTS
He adds that the payback time on such investments is typically short since the cost of supplying fuel to remote locations can be excessive.
In the case of the Fekola mine, payback is expected within four years of completion, in addition to projected long-term savings from reducing more than 13.1Ml of heavy fuel oil per year and lowering maintenance costs due to the reduced operating hours of the HFO engines.
Further, GEMS ensures the lowest levelised cost of electricity for Fekola with its optimisation of energy production. For instance, GEMS allows mining equipment to operate without bringing additional engine gensets online. As a result, the solution is expected to reduce gold processing costs by more than 7%.
The solution is also expected to reduce the mine's CO2 emissions by approximately 39,000t per year.
Demay notes that hybrid systems can be built simply by adding renewable generation to an existing power plant.
The falling costs of energy storage are also expected to form a growing element in hybrid systems.
For example, Wärtsilä, which brings extensive experience with microgrids in various climatic and geographical conditions, previously delivered a hybrid system with the addition of solar PV to a heavy fuel oil engine for IAMGOLD's Essakane mine in Burkina Faso.
In September 2021, Wärtsilä announced the supply of a 9.2MW/8.7MWh energy storage system at the Newmont gold mine in Tanami, Australia. The energy storage system will address cyclic load demand in the underground mine and operate in parallel with an existing dual-fuel engine power plant. Adding storage will save the engines from frequent ramping by managing the power fluctuations of the mining site, therefore improving the operational efficiency and achieving fuel savings and a lower carbon footprint for the mine's power plant.
Access the full Digital Magazine