21 Jan 2022
Malaysia pioneers large-scale solar project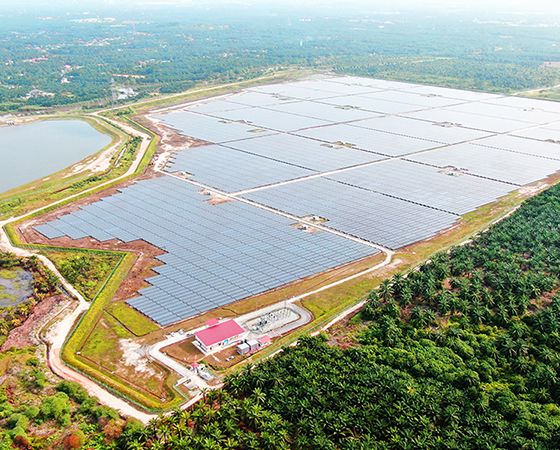 RENEWABLE ENERGY GENERATION INNOVATION & OPTIMISATION
Malaysia's government plans to increase the share of renewable energy in its installed capacity to 31% in 2025 and 40% in 2035 under its power generation plan, according to the Malaysian Investment Development Authority.
Recently, ASEAN has strengthened its commitment to increasing energy security and resilience, as well as creating a low emissions electricity sector through the adoption of renewable energy. Taking into consideration the resource availability and geographical location, most of Malaysia's clean energy will be contributed by solar, with an increasing focus being placed on floating solar projects.
Sepang solar plant is a 50MW largescale solar plant owned and operated by TNB Renewables Sdn. Bhd. (TRe), a wholly-owned subsidiary of Tenaga Nasional Berhad, Malaysia's national electricity utility company.
This pioneering solar farm is one of the largest in Malaysia, made up of 238 140 solar panels generating more than 110 000MWh of energy in its first year of operation in 2019, and maintaining a near perfect plant availability of 99%.
The solar PV power plant, located in Mukim Tanjung 12, Kuala Langat, Selangor, averts 76 000 tons of CO2 equivalent emissions per year, akin to an equivalent fuel displacement of about 36 000 cars off the Malaysian roads. The plant surpassed its maximum annual energy declared to the off taker (TNB) by 6%, a performance that was replicated in 2020, with the solar farm generating 108 900MWh or 5% more than declared.
TNB suggests that the performance was enhanced by the use of frameless double glass technology, as opposed to traditional framed solar panels. This ensured fewer soiling losses and provided a better albedo effect.
SEPANG'S DIGITAL PROWESS
Besides the glass technology, the success of Sepang is attributed to smart plant management combined with the adoption of artificial intelligence and data analytics technologies. Among others, the digital technologies used allowed TRe to calculate the best timing to wash the solar panels, based on output levels and weather forecasts.
By utilising the latest analytics tool to ensure wash optimisation, TRe saved up to RM160 000 ($38 571) on operating costs annually.
TRe partnered with Singaporebased Envision Digital to deploy utility cloud-based digital analytics applications to improve energy productivity and operational efficiency. The applications included EnlightTM Solar, EnsightTM Solar, and Forecaster. Envision Digital's AIoT operating system, EnOSTM was also deployed.
The end-to-end solution allowed TRe's operations team to have quick, real-time access to the solar farm's operation status, generation performance, power output, as well as accurate power forecasts.
This improved operational and maintenance efficiency, and ensured TRe the efficiency in renewable energy technical asset management.
The cloud-based solutions allowed for monitoring and analysis of the solar farm's performance remotely and ultimately maximised project return on investment. The platform has not only provided asset operation and performance visibility to TRe but also allowed the integration and synergised operation of various renewable energies.
MINIMAL ENVIRONMENTAL IMPACT
TRe took specific measures to minimise the impact on the environment and protect the ecosystem. For example, the team monitors the water quality of a retention pond in a solar farm to ensure its discharges are not detrimental to its environment or users. For any new development involving human wildlife conflict, expert advice and/or collaborations are sought after to ensure harmonies are intact.
This pioneering solar farm is one of the largest in Malaysia, made up of 238 140 solar panels.

The team believes floating solar is one of the best solutions towards sustainable development. It provides a good source of clean electricity without requiring vast previous land acquisition and exploration: a solution which improves solar PV development sustainability ranking, compared to ground-based versions.
In addition, other expected plus points of floating solar PV include better performance due to a cooler module temperature as a result of evaporative cooling from the water body's surface. Having realised this, TRe's associate in research arm put in a 108kW pilot floating PV system, using leach-free floaters, where water quality analysis was performed throughout, monitoring the potential impact. During the planning and development process, marine expertise for mooring installation and system design were employed with the environment in mind.
The project can also work hand in hand with the hydropower plant reservoir, creating hybrid renewable energy generation at a single location. It is optimising the strategic management of water resources simultaneously.
OVERCOMING HURDLES
From the development perspective, it was a challenge to generate awareness of the project and its benefits to the relevant government and local authority agencies. To win approval, the team also had to carefully measure the impact of such a renewable energy project on the environment, social structures and local community. This had to be measured on a new scale and with a perspective not seen before.
From an operational point of view, the solar and inverter technology sectors are forever changing. This posed new challenges in terms of training O&M personnel, as well as securing a reliable source of replacement parts and testing equipment.
MAXIMUM BENEFIT
Large-scale floating solar implementation is a sustainable option for power generation as it uses less land, an important commodity especially in smaller countries or even island nations. In addition, improved PV performance minimises natural evaporation while maximising the cooling effect of the water body. The team sees big potential for floating PV, as there is a large market of untapped water bodies. Even using former sand mines as a potential site is possible.
Most importantly, floating solar functions well when coupled with hydropower, allowing the water supply dam to perform a double function.
This was TRe's maiden large-scale solar project; however, it won't be the last.
TNB has set a target of 8 300MW of renewable energy by 2025. Another large-scale solar farm would be a sensible way to grow the portfolio.
Access the full Digital Magazine