21 Jan 2022
Start-ups and scale-ups fuelling the energy transition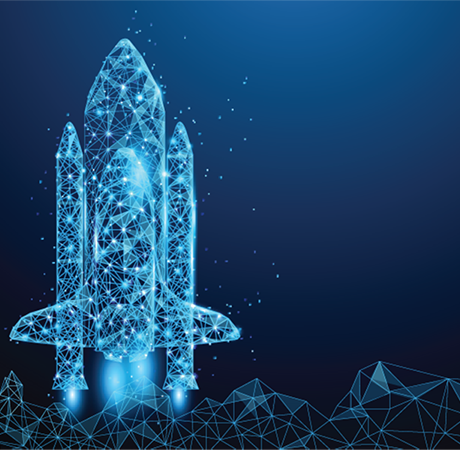 INITIATE!
Often start-ups, scale-ups and small companies are the ones equipped with the innovative ideas and agile approach critical to transforming the energy market; however, they are held back by many barriers keeping these concepts from being tested and commercialised.
Lack of funding, proving the effectiveness of a business case and increased competition from companies that are already established in the sector are some of the factors hindering scale-ups.
Two European companies that have successfully overcome these challenges and are becoming a force in the sector are the German venture capital provider Extantia and the German smart grid company GridData. In the following exclusive interviews with Laura-Marie Töpfer, General Partner at Extantia, and Manfred Reitenspiess, Co-Founder and Leader of Business Development at GridData, we discuss the rise of their companies and the impact they are making in the energy sector.
GIGACORNS – THE CLIMATE UNICORNS
By Jonathan Spencer Jones
Every venture capitalist's dream is the 'Unicorn' which has the capabilities of achieving a $1 billion valuation. Extantia, a startup in the emerging climate finance business, is the 'Gigacorn' that can achieve a 1 billion tonne (1Gt) saving in annual carbon emissions by 2050.
The Berlin-headquartered venture capital provider formed by a team of entrepreneurs and financiers is all about 'Climate First' and investing in deep decarbonisation technologies coming out of Europe that can lead to a future world beyond fossil fuels. Extantia considers Gigacorns as being 'transformers' that have a direct technology impact, such as carbon capture and removal and clean hydrogen; or 'enablers' with an indirect technology impact, such as electric vehicle battery recycling systems and carbon accounting software.
"When we say 'Climate First', what we mean is exceptional technology innovators that do two things in combination – slash emissions at scale and cut the cost gap to clean alternatives," explains Laura-Marie Töpfer, General Partner at Extantia.
"We know that half of the global reductions in CO2 emissions through 2030 will come from technologies readily available today, such as solar and wind. But looking ahead to 2050, almost half of the necessary emission reductions come from technologies that are currently in the demonstration or prototype phases, such as hydrogen."
To enable its investment, Extantia is building a 'Net Zero Circle' community of individuals, many of them entrepreneurs who are likeminded. To date, three funds have been launched including an initial Pledge fund, which was run primarily as a proof-of-concept during 2020, and the $150 million Climate Flagship Fund II which was launched at COP26 in November 2021. The third, the Allstars 'Fund of Funds', has a twist in being designed to fund emerging 'best in class' climate technology fund managers who have the potential to "uplift the entire ecosystem", as Töpfer puts it.
"The problem we have observed is that the climate technology field is fragmented with many small players and it is not clear how the few million investments can bring material changes to the space."
Extantia's investments are in the early stage from the seed level with amounts typically of a few million dollars up to about $8 million.
A key element in Extantia's assessment of a company's investment potential is its carbon reduction prospects, which are projected over the entire lifecycle considering both the total addressable market and the time to impact, alongside the commercial prospects.
Once an award is made, Extantia also aims to go a step further to add value by catalysing practical support from its network of experts and other players such as the co-investors.
Examples of the diversity of companies that have seen investments to date include Betteries, which is upcycling lithium-ion batteries from electric vehicles into second life, and GA Drilling, which is developing ultra-deep drilling equipment for geothermal energy production. Another is Bloom, which is valorising lignin from biomass as an alternative to petrol-based chemicals in aviation, shipping and other value chains.
"This is exciting and a challenge because we are bridging two worlds that have typically not really spoken the same language: climate science and venture capital," says Töpfer.
"I'd say this complementarity is actually our secret sauce as it's allowed us to build what I would call an integrated platform of capital, carbon measurement and company building."
DATA DRIVING ENERGY NETWORK DEVELOPMENT
By Nicholas Nhede
Global Power & Energy Elites spoke with Dr Manfred Reitenspiess, Leader of Business Development and Co-Founder of the German smart grid company GridData, about the challenges that scale-ups in the energy sector are facing, their role in grid modernisation and the energy transition in general.
The European Commission approved the EU Horizon 2020 programme's Net2DG project (Net2DG - 774145) which was submitted by GridData in cooperation with other European partners. In the course of the project it was analysed how digitalisation and use of big data can help transform the European energy network.
DESCRIBE THE CONCEPT ON WHICH YOUR BUSINESS IS BASED.
What is driving us to develop the grid data technology? Our offering addresses the energy transition in which an increasing number of devices are being integrated with the electricity distribution network, resulting in major operational challenges for grid operators.
This prompted GridData's participation in the Net2DG project and with the target to create a digital twin of the distribution grid, which utilities can use for various purposes including grid monitoring, grid optimisation and investment planning.
Previously, utilities were largely blind regarding the operational state of the low-voltage grids and were conducting grid planning based on assumptions only.
WHAT CHALLENGES IS THE SECTOR FACING IN DIGITAL TRANSFORMATION?
The huge increase in available data is posing a handling, processing and utilisation challenge for many utilities. The amount of data handled by a medium-sized DSO has grown from a few hundred measurements per year to hundreds of thousands per hour, which means that the data must be processed in an automatised way. This is where digitalisation comes in.
The second challenge is maintaining the reliability and quality of the distribution grid. Distribution system operators are faced with fluctuations from renewables generation and increase in demand, which require digital solutions to ensure power quality and grid reliability. With energy generation and consumption occurring at different times, distribution system operators need to employ digital tools to ensure that a high increase in PV generation does not lead to violations of voltage bands or overloading of transformer stations or power lines.
NOW THAT THE NET2DG PROJECT IS OVER, WHAT IS NEXT FOR GRID DATA?
The project was an important technology leap forward as it enabled extended testing for us and the development of new functions/capabilities for the low voltage grid which we tested in real-life. We have meanwhile extended the grid monitoring and planning prototypes, which we have developed and tested in the Net2DG project, and turned them into commercial products.
The project has enabled us to identify and demonstrate the benefits of our technology in the different markets in Denmark, Austria and Germany. We work with project partners and increasingly with new customers in the adoption o f our technology across Europe.
WHAT CHALLENGES DID YOU FACE BOTH AS A START-UP AND SCALE-UP AND HOW DID YOUR INTRODUCTION TO THE EU HELP ADDRESS THE CHALLENGES?
The European innovation funding was actually the right instrument to help us address the challenge of lack of funding and of finding a platform to demonstrate our technology. Start-ups and scale-ups are struggling with not being 'found'.
Regulation needs to also support the growth of small companies and encourage partnerships between scale-ups and utilities to accelerate the transition to a carbon-neutral society.
Selling a business case or technology within the energy sector is not as easy as selling an app which can be used by some 20 million people. The business model is difficult to be fully understood on the venture capital side: What is behind it? What is the market? Who are the customers?
WHAT ROLE DO YOU THINK SCALE-UPS WILL PLAY IN THE ENERGY TRANSITION?
In the same way the deregulation of the telecommunications sector enabled the participation of small companies and accelerated innovation, the energy industry can also leverage start-ups and scale-ups to promote the development and use of innovative new business cases that can help ensure the energy transition becomes a reality.
The more small companies come into play and make use of available data, the more profitable the energy sector will become for all stakeholders. Increased penetration of scale-ups will also help in the delivery of energy in more cost-effective, more sustainable and smarter ways than before.
WHAT TRENDS ARE LIKELY TO SHAPE THE UTILITY DISTRIBUTED ENERGY RESOURCES AND DIGITALISATION MARKET THROUGH 2025?
What we are seeing is that the drive for a carbon neutral society is changing the sector and how to generate, distribute and consume energy. Technologies such as energy storage, onsite generation and energy flexibility will continue to transform the grid and digitalisation is key for making this happen. We expect to see increased innovation and the use of digital technologies to optimise data management in the distribution grid and translate it into valuable insights. Increased use of flexible energy as utilities try to avoid the costs associated with building new infrastructure will also continue.
Since the successful completion of the Net2DG pilot, GridData has been selected by Germany utility company Elektrizitäts-Versorgungs- Genossenschaft Perlesreut eG to provide its digital solution to detect critical situations and monitor voltage across the distribution grid.
About Initiate
Start-ups and scale-ups like Extantia and GridData are very much on the radar of Initiate. Initiate is a global movement that spotlights talents, empowers the next generation of energy entrepreneurs and creates impactful programmes to move the industry forward. Initiate offers an unrivalled platform for cutting-edge start-ups and young bright minds, providing opportunities to collaborate with established industry players and investors in the sector.
To learn more about Initiate, visit: www.initiate-global.com or www.enlit.world/initiate/
Access the full Digital Magazine
Request a copy of the print magazine