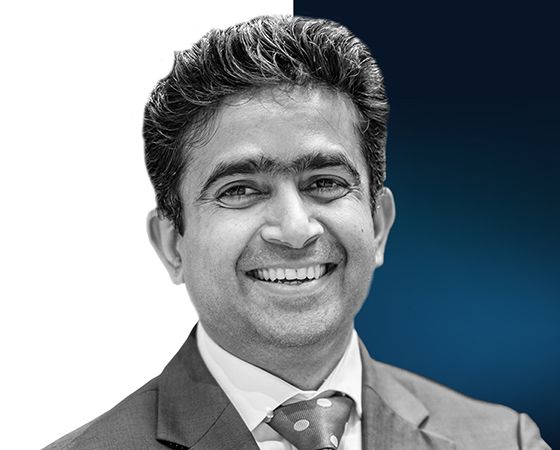 Chief Executive Officer | Husk Power Systems
Manoj Sinha, drawing on his experience growing up in rural India, co-founded Husk Power Systems to pioneer off-grid power generation and distribution for rural customers. Manoj has played an instrumental role in the technological and economic advancement of mini-grids as a rural energy solution in Asia and Africa. He has led the growth of Husk from a start-up to a major energy services player. Among other achievements, Husk is the first company to top 100 solar mini-grids, while also introducing AI and IoT to remotely manage its assets.
WHAT'S THE BEST BOOK YOU'VE READ OR THE BEST PODCAST YOU'VE LISTENED TO THIS YEAR?
I've been reading The Culture Code by Daniel Coyle, which is about the secrets of highly successful groups.
Group dynamics are complex and they become even more so in a growth company that is operating in multiple countries across two continents – during a pandemic! It is my job as CEO to establish a culture built on trust, collaboration and constant learning. That is what is needed to foster a team spirit that is resilient, innovative and exceeds expectations. To support this culture, I am constantly trying to figure out what I need to do as the leader to create the motivation and purpose for everyone to want to work towards the company's 'North Star' goal; while reinforcing the belief that this is also their own 'North Star' goal.
WHAT DO YOU THINK MAKES A SUCCESSFUL LEADER?
Empathy is a key attribute of leadership. It is essential. A successful leader should also embody grit and resilience in their journey. It is never a straight line and you are bound to have setbacks but it is how you respond to getting back on your feet and solving the problem in order to move forward. The ability to make decisions is important as well, especially when you do not have sufficient information and data, which is almost all the time. If we had all the data, we would always make the right decision, right?
Lastly, you need to have the ability to set clearly the vision and the purpose of what you are trying to build, and to communicate that clearly and succinctly to everyone in the organisation, irrespective of their education and experience.
Finally, it is having the ability to build a team who can work with you and who are smarter than you as the leader in at least one or two dimensions, if not more. That sounds trivial but it has been an experience in itself to do that.
WHEN MEETING OTHER LEADERS, WHAT DO YOU ASK THEM?
I have been fortunate to have had mentors who have been CEOs in different sectors and one of the questions I have discussed with them is: How do you hire a great set of people and how do you attract good people to work with you?
Another one is: How do you tackle a huge setback? As I work closely with my board, I am always interested in how others interact with theirs and manage governance. Additionally, as these mentors have grown their companies from nothing to, in some cases, billion-dollar enterprises, I ask them how they went about achieving what they have.
In my case, in response to the first question, I recall that when starting out we didn't have a lot of money to attract top-notch people. But what I found was there are always what I call 'crazies' out there who are willing to do something that is larger than life – in our case literally changing the lives of rural communities by solving a challenge that has remained unsolved for decades. That is the purpose of the company and it was on that basis I was able to convince those folk to work with me.
WHAT TIPS DO YOU HAVE FOR KEEPING A TEAM MOTIVATED?
The team and the team's leader need to have clarity of purpose. We might stumble or fail on our way to achieving our goals because of the hypothesis or the method we choose; however, the goal remains.
Therefore, we have enabled an organisational culture where it is OK to fail because if you haven't failed, you haven't taken enough risks, and have played it too safe to solve a big problem.
We have created a supportive environment that encourages the team to share ideas and problems openly, even if they are not successfully achieved or resolved. In my office, we have a 'challenge wall', where people can write what they did and why it didn't work. It is OK to fail, but then you still need to get up and try to solve the problem, instead of repeating the same mistake. As part of our desire to foster innovation, Husk encourages our people, including myself, to do things that they are passionate and excited about, which may or may not be related to their function or role.
The team and the team's leader need to have clarity of purpose. We might stumble or fail on our way to achieving our goals because of the hypothesis or the method we choose; however, the goal remains.
Our mission of helping communities, which includes our employees, is a major motivator. The COVID-19 pandemic caused our revenue to take a dip of about 70%, and we as management took a pay cut and said there would be no layoffs – again creating a safe environment and eliminating any uncertainty and stress for the teams. On their own initiative, staff also worked in their spare time to organise food drives, mask donations and more for the communities in our service areas during the COVID-19 pandemic.
WHAT ARE YOUR GREATEST STRENGTHS?
One of my strengths is innovating new ideas, new business models, and new partnerships, all of which need to be frugal in nature because the people and businesses we serve are very price-sensitive. Whether it is related to finance, marketing or engineering, I love solving a problem. The way I see innovation is attacking a problem from a multi-dimensional aspect. This approach has helped us as a company to remain one of the leaders when it comes to levelised cost of energy as an example, where we are competing with big billion-dollar companies like Tata Power.
Complementing my interest to finding solutions is my demonstration of grit and resilience; I am not easily phased by challenges. Taking the approach of embracing a challenge keeps you learning and engaged.
In 2013, Husk went through an existential crisis and people thought we would 'wind down' but we bounced back with even more determination than ever to succeed at our core objective. I am not afraid of making decisions, especially when there is not a whole lot of data available. I think people value how I have set the vision and they are clear in their mind and in how they can deliver their individual contributions.
WHAT'S THE BIGGEST RISK YOU'VE EVER TAKEN?
One of the toughest and most stressful decisions of my life was in 2013 when the then CEO of Husk walked away literally overnight. Up to then, I was on Husk's board but not active in the management. I was in New York, recently married, and working as a mid-level manager in a great company when I had to decide if I would uproot and return to India to try to save Husk Power from collapse.
Supported by my family, I took the risk and made the decision to return to India. On my return, I found the company in bad shape – the business model was not working, we were losing money and customers were unhappy. An immediate and necessary decision to lean out the team was taken, which resulted in a strike.
This was the start of a series of events where, over a period of 12 months, I was faced with new challenges and had to figure everything out. This taught me many things for which I am a better person and a better leader, as well the subject of two Harvard Business School case studies.
WHICH OF YOUR LEADERSHIP SKILLS WAS THE MOST DIFFICULT TO DEVELOP?
Effective communication is something that was not an obvious skill to me. When I communicated with the board and my direct reports within the business, I thought I was doing a great job; on the contrary, it needed significant improvement. One day, I received direct feedback about how the words I use to communicate are a weighted influence amongst the team – I was astounded to learn that every word I said was being attentively listened to, which has certain implications.
The second skill is being vulnerable. Perhaps this is cultural or my perception of the position of the CEO but it took me time to become confident enough to be able to share vulnerabilities without it being perceived as a sign of weakness.
WHAT'S THE MOST IMPORTANT LEADERSHIP LESSON YOU'VE LEARNED AND HOW HAS IT PROVEN INVALUABLE?
The pivotal time in 2013/2014 taught me the true meaning of grit and resilience. I had taken an active decision to return to India and learned the ways and means to not be drowned by the challenges that came to me. Similarly, in 2020 with the COVID-19 pandemic, we were able to utilise our resiliency planning and that resulted in a growth of 90% year-on-year in a pandemic year.
WHAT INDUSTRY CHALLENGE KEEPS YOU AWAKE AT NIGHT?
We are doing decentralised energy resources for electrifying rural parts of the world and that is filled with many regulatory challenges. Literally, a stroke of the pen or a ministerial speech can change the regulation and can totally ruin your business. One needs to be on top of all the regulatory frameworks.
Secondly, the availability of capital as the mini-grid business is very capital intensive. We currently operate in India, Nigeria and Tanzania, and we plan to enter other developing countries. Especially in African countries, the currency and political risks are pretty high.
WHAT DOES ENVIRONMENTAL, SOCIAL AND GOVERNANCE (ESG) MEAN TO YOUR ORGANISATION AND WHAT DOES YOUR ROADMAP TO ACHIEVING THESE GOALS LOOK LIKE?
ESG is in our DNA. We started the company to provide 100% clean energy and we do socioeconomic development in the rural communities we serve. It is an integral part of our business model and not an afterthought.
We envision electricity as a tool that we're providing to our end customers, be they households or commercial customers so that they can either generate more income by being more efficient or have a better lifestyle.
HOW HAS THE COVID-19 PANDEMIC CHANGED YOUR VISION OF THE FUTURE FOR YOUR COMPANY AND THE SECTOR AS A WHOLE?
The pandemic has strengthened our vision of creating decentralised power generation and distribution solutions for rural communities. It uncovered the vulnerabilities of highly concentrated or centralised systems and strengthened the case for more localised ones like Husk's. COVID-19 was a body blow, and we not only survived, but emerged with the confidence that we are also able to handle the worst mother nature can throw at us.
WHAT ARE YOUR THOUGHTS AND FEELINGS AROUND HOW THE ARTIFICIAL INTELLIGENCE (AI) EVOLUTION WILL CHANGE THE SHAPE OF THE POWER AND ENERGY SECTOR?
It already has… We are already seeing many changes that started with decentralised energy resources. When you have these systems disseminated around the world, you have to have a highly intelligent system to be able to integrate and manage all these disparate resources so they can effectively work in unison.
The only way for this to happen is machine learning or artificial intelligence, which can make sure that all the 'handshakes' are happening, all the synchronisations are happening, and that the virtual power plant concept will make the system work and help us achieve net zero by 2050.
ACCESS THE FULL DIGITAL MAGAZINE