21 Jan 2022
HÉLÈNE LAGOUTTE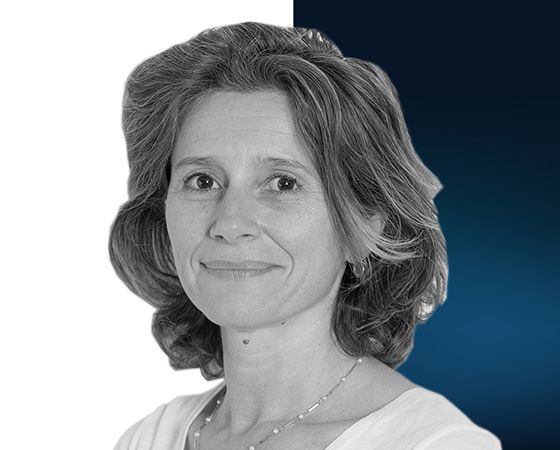 International Business Developer | GRDF
For over 15 years, Hélène Lagoutte has been a leader, teacher, and adviser at the intersection of technology, utility operations and community development. For five of those years, she was IT project manager of the world's largest gas smart metering project – GRDF's 11 million-meter deployment and network modernisation across France. In this position, Hélène focused on putting meter data into the hands of GRDF's teams, partners and customers to help increase operational performance, energy efficiency and customer empowerment.
WHAT'S THE BEST BOOK YOU'VE READ THIS YEAR?
I have thoroughly enjoyed reading 'The Overstory' by Richard Powers. It is a scientific and poetic story about nature, specifically on how trees communicate with each other, through an intricate network of communication under the ground. Interestingly, this could be compared to the complexities and intricacies of life and in a global society where nothing works by itself, it is a complex harmony of continuous communication. Fragile yet robust networks that are having to constantly adapt and evolve to accommodate the climatic and social changes.
I also enjoy reading papers on sustainable innovations, political ecology, the necessary transition of the world, the new way to organise societies, and new urban European studies.
WHAT DO YOU THINK MAKES A SUCCESSFUL LEADER?
I have been leading large teams my entire career and I had to manage diverse and dynamic profiles. Some are driven by money; others are driven by their peers' gratitude, volunteering their time; some are oriented on the good they do to others – three different drivers to achieve a specific outcome. Most of us are a mix of all drivers, which can be challenging as a leader.
Having the ability to navigate your team – large or specialist – to achieve the expected outcomes comes from having a clear vision for the team and being able to effectively illustrate and communicate the steps to achieving it. Together with a clear direction, a leader who is confident in their ability and that of their team, can create an enabling environment for individuals to grow and take accountability for their role and performance within the team.
WHEN MEETING OTHER LEADERS, WHAT DO YOU ASK THEM?
It is not easy to ask leaders personal questions; however, one question I ask my colleagues often is how they find the energy to keep going over the years, especially those in the same position. Their response: It is a marathon, not a sprint. Noting that the only constant is change. Through meeting new people –in the organisation, and externally – and being faced with new challenges, they keep growing and developing.
WHAT TIPS DO YOU HAVE FOR KEEPING A TEAM MOTIVATED?
Often, only having one monumental goal can seem overwhelming and occasionally unattainable. By setting more modular milestones, the success at each step is recognised and celebrated, keeping the team engaged and motivated to continue taking ownership of their tasks, moving the project forward.
Additionally, by showing that you are vulnerable, sharing personal and team failures and success, you break a barrier of hostility and create an opportunity for greater collaboration, camaraderie, familiarity and reliability within the team. This results in individuals wanting to do their best not to let others down.
It is also key to create an environment that encourages failure because if you are encouraging failure, you are encouraging innovation and the trialling and testing of new things. To have this safe space without feeling embarrassed or humiliated when tests fail but rather it is welcomed as it opens up a new dialogue within the team to problem-solve.
I am fortunate to be a part of an organisation that gives its employees the platform to innovate and develop while supporting their personal and professional needs. With exemplary leadership, management has a great deal of trust in their employees and has a legal structure as a framework that makes it easier to develop yourself as an individual and run ambitious projects.
WHAT ARE YOUR GREATEST STRENGTHS?
There are two standout strengths I feel I embody well. Firstly, I like to think I am able to remain calm during turbulent times, where I analyse a situation and troubleshoot scenarios before presenting a decision. While this may sound like an isolated activity, as a collaborator, I will seek counsel from others in the team to ensure an informed decision is made.
The energy transition is a major challenge in the coming years as Energy is 'the beating heart' of activity in the world.
Secondly, as a teacher and a leader of diverse teams, I have managed to take complex concepts and translate them into something comprehensible for anyone to grasp easily. Working across different levels within the sector has proved a valuable strength to have. When someone fully understands a concept/idea, their buy-in is greater.
WHAT'S THE BIGGEST RISK YOU'VE EVER TAKEN?
The biggest risk I have taken is to branch off as a 'company consultant' where I can put into practice all the experience, frames of reference and skills I have acquired on my career journey. I have studied philosophy; worked in commercial advertising, corporate communication, R&D at EDF in France, and IT systems. I am currently an international business developer, involved with an Ecology political party in France, and also a teacher. I have an overview of many things, but on the other hand, I am not a specialist in a specific field, which is a risk. In France, there is a culture of engineering expertise, and profiles like me are not so easy to understand.
WHICH OF YOUR LEADERSHIP SKILLS WAS THE MOST DIFFICULT TO DEVELOP?
Endurance: the motivation to keep going on the same topic.
I led a team that worked on an Internet of Things (IoT) project for smart gas metering, which evolved in phases: One year in the design phase; two years in the build phase; and once it was live, three years of maintenance, which surfaced many problems. The ongoing barrage of challenges made it hard to maintain the high energy among the team that was needed. However, knowing that there were real users relying on the outcomes of this project, we continued to persevere and find solutions to the problems, no matter how challenging the barriers were to overcome.
The success of this project is the two-way support and engagements that happen today between the user and the energy provider. By equipping energy users with the tools and the know-how on how to effectively manage their daily gas consumption, they feel empowered and a part of the system. With better management, they require less energy from the energy provider, alleviating the pressure that comes from unnecessary high demand/consumption.
WHAT'S THE MOST IMPORTANT LEADERSHIP LESSON YOU'VE LEARNED?
My idea of a leader was what we learned in the history books – the chief of a tribe, one player in a team. The reality is that a team succeeds and moves forward with the input of everyone on that team. With a strong team, you naturally deliver a strong output, which is recognised by everyone.
The proof of being a good leader is that you can 'disappear' and the project will continue to go on, optimally.
WHAT INDUSTRY CHALLENGE KEEPS YOU AWAKE AT NIGHT?
The energy transition is a major challenge in the coming years as Energy is 'the beating heart' of activity in the world. Working in a gas company, I believe that gas has a role to play in the future of energy. The value of biomethane and of hydrogen specifically hold great potential for a sustainable fuel source. Gas is a domain that deals with complexity as there is no single resource: it is a harmony between the production of several resources which fit the environment. There is more than one solution.
WHAT DOES ENVIRONMENTAL, SOCIAL AND GOVERNANCE (ESG) MEAN TO YOUR ORGANISATION AND WHAT DOES YOUR ROADMAP TO ACHIEVING THESE GOALS LOOK LIKE?
We are an energy company, and we are a public service company. Each of these two reasons is sufficient to consider ESG as a central matter. Lately, we have published our global mission purpose and our ESG detailed roadmap. Since then, every year, we follow our major KPIs and are updating our goals according to the new opportunities. What do we do for ESG? As a gas company, we are fully involved in an urgent energy transition.
Considering that the transition first comes with less energy consumption, we have engaged in a massive smart gas meter deployment initiative, and provided daily consumption data to all authorised parties as a tool to better manage consumption. We are fully engaged in the development of renewable gases, mainly biomethane and hydrogen, through research and development projects and extensive support to all project owners on the French territory. Additionally, we think green gas can play a role in the vehicles fuel mix and are supporting the development of this solution.
For us, ESG is also a matter of having the best results in our daily works, through exemplarity in security and in carbon emissions. We measure very closely third party damages to our network, our number of home installation security checks, carbon emission of our transportations to and from the office or to field works, as well as our waste management.
Our ESG roadmap includes all activities related to the social value of our company, including sustainable procurement, support for local energy policies design, the inclusion of disabled persons, equality and gender diversity.
HOW HAS THE PANDEMIC CHANGED YOUR VISION OF THE FUTURE FOR YOUR COMPANY AND THE SECTOR AS A WHOLE?
It has confirmed that we have moved to a digital age and that we need a digital system that enables us to get data and act on the network remotely. During the crisis, technicians could not gain residential access and read the meters for billing. But data could be gathered by our smart metering system. There are social and human benefits on going digital, including security and health.
WHAT ARE YOUR THOUGHTS AND FEELINGS AROUND THE ARTIFICIAL INTELLIGENCE (AI) EVOLUTION AND HOW IT WILL CHANGE THE SHAPE OF THE POWER AND ENERGY SECTOR?
I see AI having great potential as a problem-solver in many of the challenges we are facing. I think AI can really empower us to facilitate our fieldwork, optimise our security, and manage the distribution of green gases. For instance, when I think of facilitating our fieldwork, I see technicians taking pictures in the field and AI analysing the images to update our assets database. More than pictures, I think scenario's using video and audio make numerous use cases. In return, technicians will have a better asset database and can prepare their work more efficiently.
Regarding the optimisation of security, we have placed a big expectation on AI for predictive maintenance. We are interested in finding ways to act on an asset before it fails. It would have lots of positive impacts reducing gas cuts, and mitigating the degradation of the assets. AI in predictive maintenance could reduce the risk of accidents as technicians would not be in contact with damaged assets. GRDF invests more than one million euros a day in security, resulting in fewer to zero accidents; however, this remains a daily concern.
Where green gas distribution is concerned, I imagine AI as an assistant to manage the gas distribution network: providing the information and recommendations to injection operators, suppliers and big customers. And why not have AI that is autonomous and manages the network by opening and closing valves, and everything else in order to prioritise green gases!
ACCESS THE FULL DIGITAL MAGAZINE