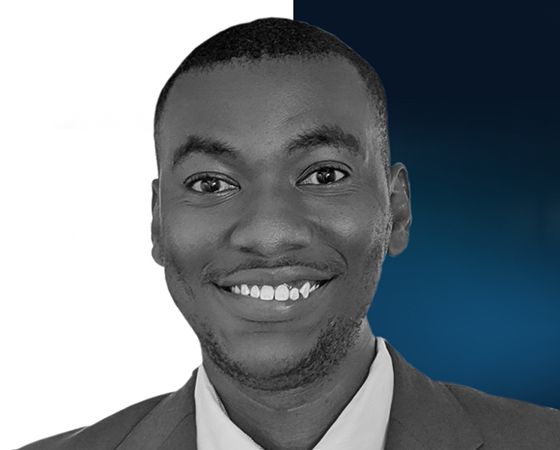 Manager – Energy & Climate Change | Intellecap
Daniel Kitwa, a Nairobi-based, young Kenyan leader, is working at the intersection of energy, climate change and agriculture. His work involves supporting enterprises, investors, governments and other stakeholders across Africa by providing a variety of structured competencies. Daniel has supported over thirty enterprises in various technical and innovative interventions, facilitated $10 million in capital deployment, mentored other emerging leaders in East Africa, and contributed to a wide array of innovative thinking through research, articles and publications across the broader energy, climate change, conservation and agriculture themes.
WHAT'S THE BEST BOOK YOU'VE READ OR THE BEST PODCAST YOU'VE LISTENED TO THIS YEAR?
I've just finished 'The Art of Thinking Clearly' by Rolf Dobelli. In summary, this short masterpiece tackles the most common thinking errors and biases we often face in our journey through life.
As for podcasts, I recently came across The Pomp Podcast hosted by crypto expert and investor, Anthony Pompliano. The podcast has greatly shaped my understanding of bitcoin and more specifically how the crypto world interfaces with modern geopolitics, monetary policy, global philanthropy, ESG risks and energy usage.
WHAT DO YOU THINK MAKES A SUCCESSFUL LEADER?
Several qualities make a successful leader. Key among them, however, is self-awareness, and being able to be humble and conscious enough to understand one's strengths and weaknesses. In this way, the leader clearly defines their circle of competence and thereby only focuses on what they're good at. They can then delegate the other areas, hence saving time and energy.
WHEN MEETING OTHER LEADERS, WHAT DO YOU ASK THEM?
I ask about their story; their evolution as a leader. Often, I have found that the best insights are woven into the narrative. I particularly love to hear learnings from the failures they've encountered on their journey. I believe that we learn more about ourselves from failure than success.
WHAT TIPS DO YOU HAVE FOR KEEPING A TEAM MOTIVATED?
Recognition of team achievement, big and small, as a team and individually, makes one feel appreciated, recognised and heard. When someone feels valued, they will always strive to achieve the best results for their leader and their team. I always remember to acknowledge the efforts of my team.
WHAT ARE YOUR GREATEST STRENGTHS?
I'm a people person, which means that I get along easily with people from different backgrounds, cultures and contexts. I've worked with people who have taken different approaches to life: some are strategic with everything mapped out, and others are more laissez-faire. Being exposed to these different working groups – face-to-face and virtually, with different frames of reference, has been an enabler in how I can adjust and shift between communicating with different teams.
WHAT'S THE BIGGEST RISK YOU'VE EVER TAKEN?
Navigating a career move at the peak of the COVID-19 pandemic. This was at a time our sector was characterised by project delays as investors and funding partners took a 'wait and see' approach to prior commitments.
Meanwhile, government priorities were refocused towards dealing with the pandemic. This often meant that partnerships took longer to materialise. As you would imagine, these broader shifts in the development ecosystem coupled with remote working were not the ideal variables I had envisioned while dealing with team and role transitions.
WHICH OF YOUR LEADERSHIP SKILLS WAS THE MOST DIFFICULT TO DEVELOP?
Being patient with myself and trusting the process. I view myself as an action-oriented leader, and although this is needed in many instances, the downside is you tend to be impatient with yourself when things are not moving at a pace that you would like. Occasionally, I may also make hasty decisions without always doing the due diligence required.
There is a famous clip of Steve Jobs around connecting the dots and trusting the process. This has been something which I reflect on regularly to keep myself tracking at a pace that will have greater reward and require less risk.
I encourage people to watch the nine-minute YouTube clip on God's Chisel - The Skit Guys put it more clearly than my words could ever do.
From a sector perspective, I can see the future including more collaborations, synergies and partnerships between governments, corporations, research institutions, investors etc.
WHAT'S THE MOST IMPORTANT LEADERSHIP LESSON YOU'VE LEARNED AND HOW HAS IT PROVEN INVALUABLE?
There's a price to pay for being a successful leader. Leadership and sacrifice go hand in hand in terms of your time. Often the hard work of being a successful leader is masked by a perceived glamour that may come as part of the leadership profile; however, no one truly recognises the self sacrifice that is needed behind the scenes to keep the machine well run.
Since my childhood, my dad always used a quote that has stuck with me to this day (not sure where he got it from): "The greatness of a man is determined by the cause he lives for and the price he is willing to pay for the achievement."
WHAT INDUSTRY CHALLENGE KEEPS YOU AWAKE AT NIGHT?
Africa still has an estimated 600 million people who are not connected to any form of power. I often wonder whether our efforts as an ecosystem in addressing energy poverty in Africa are ever enough.
There are huge strides in technological advancements, equality with efforts to close the gender gap within the sector, progressive research to unlock capital etc. But is this enough?
Moreover, sometimes it feels like one-step forward and three steps back. For example, some of the gains made pre-COVID-19 were already being reversed at the onset of the pandemic. In this regard, I often wonder how we can curate indigenous solutions around energy access and climate change that will guarantee that African economies become the centre-piece of the green revolution due to local content. Will this be realised? Only time will tell.
WHAT DOES ENVIRONMENTAL, SOCIAL AND GOVERNANCE (ESG) MEAN TO YOUR ORGANISATION AND WHAT DOES YOUR ROADMAP TO ACHIEVING THESE GOALS LOOK LIKE?
On the environmental aspect, it is mainly about achieving clean land, air and water. On the social aspect, it is mainly about achieving positive impact on local communities in terms of their quality of life and overall livelihoods. Whereas on the governance aspect, our focus is creating the right level of structured policy incentives within the partners we work with. For example, milestone-based investments anchored in achieving certain governance milestones in a given social enterprise.
In terms of roadmap, we mostly take an ecosystem approach to supporting enterprises solving ESG problems where our value add involves bringing knowledge, capital and networks.
HOW HAS THE PANDEMIC CHANGED YOUR VISION OF THE FUTURE FOR YOUR COMPANY AND THE SECTOR AS A WHOLE?
The pandemic has arguably demonstrated how fragile the world can be. The shockwaves this pandemic has caused further solidify our resolve to work at mitigating the global threat of climate change.
From a sector perspective, I can see the future including more collaborations, synergies and partnerships between governments, corporations, research institutions, investors etc. The magnitude of the problem will not allow us to continue operating in silos because no government or institution can tackle this problem on its own.
I also see innovation playing a role here. For example, innovative funding mechanisms such as carbon monetisation, extended producer responsibility methodologies, among others. There will also be innovation from a product perspective. For instance, decarbonisation of transportation through e-mobility as well as an increasing push towards product recycling and a more circular economy in general. These are just a few examples.
WHAT ARE YOUR THOUGHTS AND FEELINGS AROUND HOW THE ARTIFICIAL INTELLIGENCE (AI) EVOLUTION WILL CHANGE THE SHAPE OF THE POWER AND ENERGY SECTOR?
AI is already transforming the global power and energy sector, albeit quite slowly, in Africa. Some of the use cases for AI include data analytics of load data to inform future electricity planning on aspects such as fault detection, predictive maintenance, clean energy forecasting, power quality monitoring, among others.
AI can also support governments and utilities to enforce compliance by detecting illegal connections in the grid network. This is needed in many African markets where physical inspection protocols are often time-consuming, expensive and highly vulnerable to bribery and transparency-related risks.
Recognition of team achievement, big and small, as a team and individually, makes one feel appreciated, recognised and heard.
AI can also be used to improve customer service. For instance, smart meters anchored by back end data analytics algorithms can provide real-time data for a customer and support remote monitoring as well as accurate invoicing, thus lowering the need for estimated billing.
The role of AI is also needed in integrating regional energy markets particularly on energy trading, load balancing, smart contracting and other energy use cases within the various country states in a given power pool and even beyond. It will be interesting to see how AI will be utilised within the different power pools; e.g. East African Power Pool (EAPP), West African Power Pool (WAPP), and South African Power Pool (SAPP).
However, it should not be lost that AI must always remain a means to an end as electricity is more than just selling kilowatt hours. Access to electricity is about unlocking jobs, access to quality education, better healthcare, gender equality, and progress. This is a luxury that nearly 600 million Africans do not have.
ACCESS THE FULL DIGITAL MAGAZINE