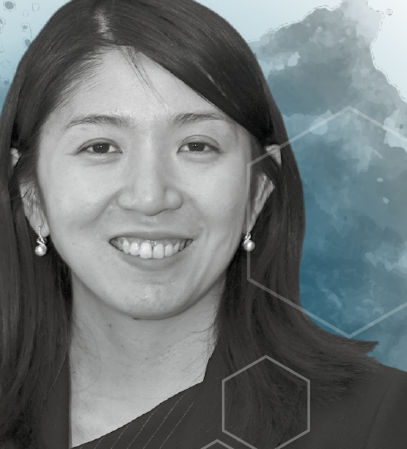 At the age of 29, Yeo Bee Yin contested for the first time in Malaysia's 13th General Election (GE13) and was elected as the State Assembly woman for Damansara Utama on May 5, 2013, making her the youngest member of the Selangor State Legislative Assembly. She was then elected as the Member of Parliament for Bakri in the 14th General Election before being appointed as the Minister of Energy, Science, Technology, Environment and Climate Change. The newly-minted minister said the biggest challenge in leading the ministry is finding the skill levels with in-depth knowledge needed in each sector.
WHEN MEETING OTHER LEADERS, WHAT ONE QUESTION DO YOU LIKE TO ASK?
When engaging with industry players in Malaysia, the first thing we ask is how can government help them to succeed. It's important that we as government listen to the challenges that people face, and think about how the implemented frameworks support people in doing their jobs better.
When people's work performance improves in aggregation, then government has an effective and robust industry, ultimately promoting investment and economic development. We always ask: "How can we have a framework to help business to be more competitive and offer better products?"
When meeting with other global energy ministers and leaders, one of the things we always discuss is how Malaysia can partner with other countries.
WHAT ADVICE DO YOU HAVE FOR OTHER LEADERS WHO ARE LEADING BIG TEAMS TO HELP THEM KEEP THEIR TEAMS MOTIVATED?
In many instances, what teams need are purpose and accountability, not necessarily monetary rewards. As a leader, one thing we need to do is to motivate them through the internal purpose of understanding what the greater purpose is of working toward a specific objective: the greater purpose of providing affordable electricity; what a greater purpose is in pushing for green energy.
For us in the energy ministry, we believe that the greater purpose of all our work is electricity; it is an enabler of wellbeing for the future generation, an enabler for economic development.
I have only been minister for one year, but I think that this is something that's very important, and people see an intrinsic value in what we do.
WHAT'S THE BIGGEST RISK YOU'VE EVER TAKEN?
One of the biggest risks in the early part of my role as minister, is when we announced our renewable targets to reach 20% by 2025, excluding large hydropower. At the time of the first announcement, many people did not believe that we could reach such a target, not even five to six years from now.
That's a risk we take upon ourselves. After we made the announcement, we realised that there are many solutions out there and it's not only about reaching the goal but reaching the goal at very affordable prices. So we are seeing a lot of surprises by pushing beyond what we think we could do. I'm really looking forward to Malaysia reaching the target.
WHAT INDUSTRY CHALLENGE KEEPS YOU AWAKE AT NIGHT?
I will say that one thing an energy minister doesn't like, and doesn't want to happen, are blackouts. Reliability is still top of the government's agenda. How do we make the power industry go beyond providing basic utility services, and branch out into an area that encourages opportunities for technology and innovation?
As government, we also need to do a lot of planning on how we present opportunities or open up a petition for people with ideas that make the market efficient, providing better value to the customers. That would help us meet the balance of the energy trilemma.
WHAT TREND IN THE GLOBAL ENERGY SPACE DO YOU SEE BECOMING INTRINSIC TO THE OVERALL POWER NETWORK?
I would say decarbonisation is something that many countries are working toward achieving. Not only is it lowering carbon emissions, but it is being supported by the competitive renewables market as well. We need a balance of the energy trilemma including reliability, sustainability and affordability.
The second trend I see is digitalisation. People are exploring alternative solutions to optimise energy usage. In perspective we need to ask ourselves: Maybe it's not just about generation, maybe it's not about the distribution asset, maybe it's not about the consumers —but rather, how can systems and technology be optimised in terms of the distribution of power? Therefore, I think digitalisation will enable such things to happen. It's going to be very exciting.
WHAT DOES THE ENERGY LANDSCAPE LOOK LIKE FOR MALAYSIA?
This is a challenging time for the energy transition, but it is also an exciting time for disruption where renewable energy is coming online on a large scale. From a Malaysian perspective, we are looking into consumers who are asking for more and identifying who among them can be prosumers. Additionally, we have set new renewable energy targets: reaching 20%, excluding large hydropower above 100MW, to account for 20% of Malaysia's electricity generating mix by 2025.
The reason for the exclusion of large hydropower is largely due to the many debates as to whether it is green or not. At the government level, we are setting different targets, one which includes large hydro and one without. Currently, we are working with the one that is without because we see a lot of potential in renewable energy in terms of providing a competitive cost and less reliance on fossil fuels.
Access the full digital magazine here