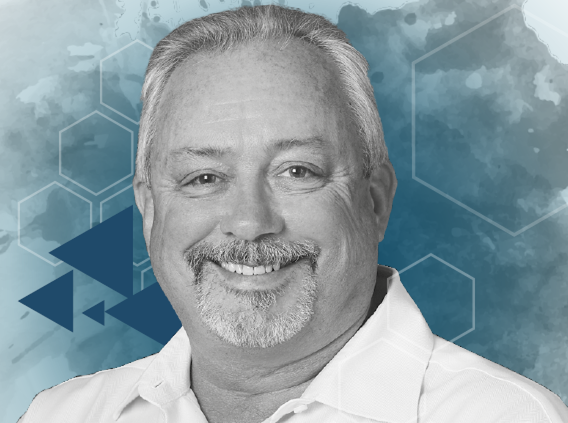 WHO HAS INSPIRED YOU TO GET TO WHERE YOU ARE TODAY?
My high school chemistry teacher, Mr Crumley, was instrumental in helping me look at the world in a different way. He made science exciting, which contributed toward shaping the direction in which I pursued my future. I was one of very few students who knew exactly what I wanted to do when I left high school. I knew what field I wanted to get into.
WHAT DO YOU THINK MAKES A SUCCESSFUL LEADER?
For me, success is in embracing your team. Once you have employed the right person for the job, give them the space to thrive and equip them with the necessary tools they need and have your successes built on their success. By surrounding yourself with good people, you too will succeed.
WHEN MEETING OTHER LEADERS, WHAT ONE QUESTION DO YOU LIKE TO ASK?
I like to engage people in a way that's not necessarily on topic. I tend to get people conversational by first asking them what they do in their spare time.
WHAT ARE YOUR GREATEST STRENGTHS?
I would say that I have the ability to take my technical knowledge and translate it into a narrative that other people can easily understand. I genuinely enjoy talking to people and educating them on topics that may not necessarily be easy to understand due to the technicalities.
WHAT ARE YOUR GREATEST BLIND SPOTS?
Again, this comes down to people; many times, I overlook or don't see people's motives that are contrary to achieving a good outcome for the both of us. I am often unaware when people want to take advantage of my good nature, which is a challenge because a lot of the work I do relies on a social level.
WHAT TIPS DO YOU HAVE FOR KEEPING A TEAM MOTIVATED?
If your team has a well-balanced life between family and work, it translates to higher productivity in the office. I instil in my team that family comes first. Of course I'm looking for successful outcomes for the business but I'm genuinely concerned about the well-being of my team and making sure they feel comfortable in their work environment. As I am more of a family person myself, I want to see that everybody knows that I believe that. In the last role that I had, we had an inclusive team that often participated in family activities and large social gatherings.
WHAT'S THE BIGGEST RISK YOU'VE EVER TAKEN?
Because I am technologically-centric, I think some of the most difficult and risky decisions I've made had to do with choosing a very early technology in its maturity process. For example, I got involved with a technology called RFID back in 2000/2001 and it was very risky for the company that I was working for at the time—but the outcome was significant. My job was to derisk it because it was such an immature technology but I took a leap of faith that I could make it work and the outcome was quite awesome!
WHAT IS YOUR 'SECRET SAUCE' FOR FOCUSING ON THE END GOAL AMONGST THE NOISE?
There was a period in my career where I was an individual contributor and I liked that. I could be held accountable for my outcomes; however, as I moved more toward my career, I found that working with others was more personally satisfying and the challenge that you have is sometimes your objectives are very difficult to achieve and you can't do it by yourself. Therefore, the way that I do that and try to achieve the goals successfully is by rallying the troops, and spend more time either one on one with individuals or collectively with a team of people to discuss the issues.
WHEN PARTNERING WITH AN ORGANISATION, WHAT FACTORS ARE DEAL-BREAKERS FOR YOU?
Most of the times when I engage with people, particularly new people, I do my background checks on them. I refuse to do any work with organisations that are not ethical or have no honour. If somebody wants to negotiate an agreement with me, I need to know with confidence that those on the other side will honour the agreement.
WHAT'S THE BEST BOOK YOU'VE READ THIS YEAR?
I've been reading a number of books by author Walter Isaacson who has been writing a number of biographies. I am currently reading 'Leonardo Da Vinci', which I find quite fascinating. It's all about technology, so why wouldn't I like it? Right? [laughs]
WHICH OF YOUR LEADERSHIP SKILLS WERE THE MOST DIFFICULT TO DEVELOP?
I mentioned I was an individual contributor and took responsibility for everything I delivered. Soon I had to work with teams and then you had to start to delegate the responsibility to others and still you had to own the outcome. So the ability to delegate was a very challenging process for me; on the way I became very confident in how to delegate—once I conquered this I felt great. If you choose the right people and you know their confidence, their loyalty and their effort to try and achieve something on your behalf, delegation is easy. One of my mottos when I try and talk to the team is I manage by walking around. I like to just stop by a person's work space and see how they are doing overall. I like to talk to everybody.
WHAT'S THE MOST IMPORTANT LEADERSHIP LESSON YOU'VE LEARNED?
It goes back to something I said earlier: by developing your team and letting them know that you care about them as a person, their trust is earned. This trust goes both ways—people that I work with and work for me can trust what I say, have faith that I care about them, which is probably the most valuable way in which everybody can succeed.
HOW DO YOU ACHIEVE BALANCE IN YOUR LIFE?
For me, balance is a healthy split between being successful in work and being successful with my family. Actually, my family has their own bucket list and the way in which I feel very good is where they are satisfied with the ways in which we can spend time together.
WHAT INDUSTRY CHALLENGE KEEPS YOU AWAKE AT NIGHT?
The work that I did with the United Nations several years back really drew attention to a fact that there's a problem that I can help solve— global energy poverty. As I speak to business associates today, many of them understand that my passion is to focus the energy industry's attention on solving this particular problem. I am doing this in Australia, which is very close to Asia pacific, where I have access to the problem, and access to organisations that can help solve the problem. I'm trying to work little by little through various conversations I have with other corporate leaders on ways in which we can remedy this global dilemma.
There are a number of challenges in the industry that are fragmenting the way in which the industry looks at solving global problems and the biggest challenge today is distributed generation or distributed resources. The traditional way of delivering energy into any type of community for the last 100 years has been central generation and then to transmission and distribution down to the customer. This model has kind of been stepped on its head because there's so much available generated capacity that is coming online from customers. Distributed generation is good for developing economies but if you don't have the scale to solve this en masse then it's a bunch of point solutions that really hasn't addressed the larger problem. The power and electricity industries are in a major upheaval because of distributed resources and what we need to do is grapple with that societally and solve that in a way that we can apply to developing countries and rural electrification.
WHAT TREND IN THE GLOBAL ENERGY SPACE DO YOU SEE BECOMING ENTRENCHED INTO THE POWER NETWORK?
It will definitely be decarbonisation and democratisation. These are two trends that I don't think are going to abate. The whole challenge—whether or not you believe in climate change— and the symptoms that we see, are rising temperature levels and more severe storms along coastlines, more disruption into people's lives because of the weather. I think a large number of individuals across the world believe that they need to reduce emissions; I've also just mentioned the fact that distributed resources are quite prevalent and I think we will continue to see that as a trend, so the two things can actually work together.