12 Nov 2019
LEADERSHIP: NEEL GULHAR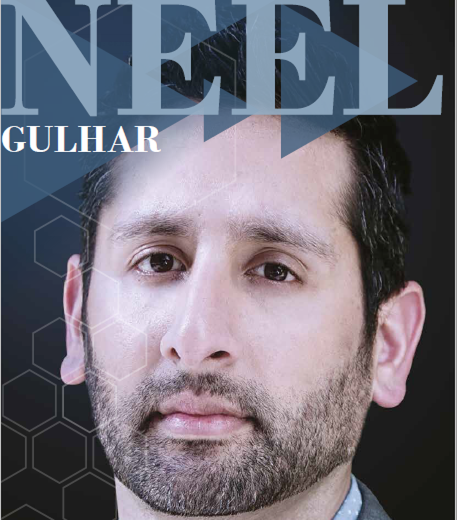 WHAT DO YOU THINK MAKES YOUR TEAM SUCCESSFUL?
Over the last 13 years and through various acquisitions, Oracle Utilities has acquired a strong team of individuals, bringing a diverse set of skills, experience and innovation
to the table. It is this diversity that I believe has led to many of our innovative solutions and moreover, it is great fun working with such a broad range of personalities. As a leader, one of the things I find challenging but also gratifying is finding ways to unlock this diversity and creating an open environment for people to voice their opinions and share their ideas.
HOW DO YOU BRING CONCEPTS LIKE AI, DATA SCIENCE AND ML INTO THE REAL WORLD WITH THE HELP OF THAT TEAM?
It is very easy to get enamoured with the latest buzzword technology. While these new approaches do have merit, we always start with the business problems first, then
brainstorm many different solutions to solve them. There are no bad solutions at this stage. And then finally, we apply the technology options last. This guarantees that we're orienting towards problem-solving and not technology for technology's sake. As part of our product development at Oracle Utilities, we start with the first principle which is "What is the job to be done—what is the user trying to solve?". Having empathy for the user at this stage is the most important characteristic—asking questions such as what are they trying to achieve; and what are their points of friction that they meet along the way.
We did this recently with the problem of giving Electric Vehicle customers insights about the cost of charging their new car, and giving them better rate options. The problem is that these customers don't notify their utility that they have purchased an EV in most cases, and don't know about these better options. Now we use machine learning to
automatically detect who has an EV, and proactively recommend new rate programs to save them money every day, while cleaning up the environment in the process!
HOW WOULD YOU ADVISE OTHERS TO DO THE SAME?
The first step is writing down the problem with a lot of clarity and without thinking about the solution first. Then a good 'trick' to thinking big is to ask a seemingly ridiculous
question like: "How may we double our impact on climate?" or "How may we automate this process 100%?" By asking the seemingly audacious questions, you shift the paradigm and come up with unique solutions, even completely outside of the box. As
you move through solutioning, you can then apply a technology layer on top of it and ask: "Maybe this new technology can solve this problem. Let's try it and see."
WHAT ARE YOUR TEAM'S BLIND SPOTS, AND HOW ARE THEY BEING IMPROVED?
One challenge that comes with servicing hundreds of utility clients and maintaining dozens of different products is that it's very easy to fall into a trap of making each of these products incrementally better. But, it's really important that we create a space to truly innovate. This is something that we have been thinking thoughtfully about: How do
we create this space? The big ideas have to go beyond making things incrementally better. We have created separate teams and processes that are designed to work on the big problems that cannot be solved through incremental optimisation.
Here's an analogy I like to refer to: When you are blowing a bubble, at the very beginning that bubble is fragile and you have to nurture it until eventually that bubble becomes strong enough to release itself into the air—taking its own path. Those first moments of blowing a bubble are so critical! That's how I think about innovative ideas in the very beginning—it is very easy to squash them in the inertia of our day-to-day of serving hundreds of clients but you really have to create that space where truly innovative ideas can thrive.
HOW WOULD YOU SHIFT THAT LEARNING TO ADVICE FOR OTHERS IN THIS INDUSTRY?
Utilities and energy companies are facing the same issues. In some instances, these companies have existed for several decades—some over 100 years—and naturally are
drawn toward doing the things they have always done. This includes important things like serving electricity; billing their customers; and ensuring reliability and maintenance of assets, all of which will continue to be important. But the market itself is evolving.
The path between utilities and customers used to be linear. Customers used energy, the utility billed them. But increasingly savvy customers are becoming more active
participants in their energy journey, both as consumers and producers.
This new 'customer-centric grid' paradigm requires new ways of thinking and engaging customers. As such, it's critical that utilities rethink old business models and start creating this 'second path', where they can truly think outside the box and ask the "How may we?" question. At Oracle, we believe in this so much that we wrote a white paper,
'Utility Innovation Blueprint: How to Manage the Challenge of Dual Transformation'. The concept of 'Dual Transformation' is where innovation takes place on two fronts.
The first path focuses on increasing the efficiency and the resiliency of the core business through concepts such as Machine Learning and AI for automation; while the second path is a different kind of innovation, one that centres around increasing agility
to enable the iteration of entirely new business models by asking the "How may we?" question.
When you think about these two types of innovation, it's important to create a little bit of separation when it comes to the people, the process, and the technology that you deploy for each innovation type. If you place the groups too closely together, as I used in my bubble analogy, these ideas may get squashed too early on in the process. And conversely, those looking at the next business model paradigm may not have the
legacy knowledge to innovate in the core business in meaningful ways.
One of the exciting things about Oracle Utilities is that we have people and products that are purposefully enabling both of these dual paths.
WHAT'S SOMETHING YOU BELIEVE THAT MOST PEOPLE DON'T?
A lot has been written about the 'utility death spiral' where utilities are going to completely disappear due to all the dynamics occurring in the industry—I think this is a
fallacy. Energy and water are a human necessity; therefore, as people we will have a tendency to assign a responsible and trusted party to be the backbone of delivering these services.
No matter how much distributed energy comes onto the grid, there will always be a place for utilities who are accountable to provide safe and reliable water and energy. This role could change to be more of an orchestrater, but it is still essential nonetheless.
WHEN PARTNERING WITH A UTILITY OR ORGANISATION ON RESEARCH OR PRODUCT DEVELOPMENT, WHERE DO YOU START?
For products that are new and truly innovative, we at Oracle Utilities love to partner with utilities. As I mentioned earlier, having empathy for the end user is one of the product
development characteristics that is most important.
To fully understand the user and what they do on a normal day, we encourage working with utilities very early on in the product development life cycle. We have an 'early adopter programme' for utilities who are willing to take a risk and have an innovative spirit. That means they are willing to experiment and learn from the outcomes.
Our most progressive utility partners push us to innovate, bring us unique problems proactively and iterate with us on solutions, and that is something we cherish.
WHICH OF YOUR LEADERSHIP SKILLS WERE THE MOST DIFFICULT TO DEVELOP?
I am a natural introvert, yet when I consider my early career mentors, they were what you would typically classify as extrovert. I have learned that there is a place for introverts to be leaders. I've learned that those one-on-one and intimate settings
become much more important for connecting with people. Part of this includes showing my team some vulnerability when I am unsure of a situation. I've learned that showing
vulnerability encourages people to open up, and that's when you truly get to know them.
In college, I was part of a fraternity where you would never have picked me out of a line-up to say I was the leader of that fraternity. However, for some reason when the vote came up a lot of people raised their hand for me to lead—and this continued in
various organisations throughout my career. I found throughout this 'trend' that people would encourage me to step up and lead.
When reflecting and asking why that was, I think it was those connections that I was able to form on a one-to-one level. It's through these relationships that I try to source the best ideas and find the best fixes to our problems.
I often tell people that I have strong opinions, but they are loosely held. So, help me change my opinion if I'm wrong. This is why I believe diversity is so important to business—diverse people lead to diverse ideas but you have to have a leader who is willing to listen and change their firmly held opinion.
WHAT'S THE MOST IMPORTANT LESSON YOU'VE LEARNED IN YOUR CAREER?
All of us who lead in organisations can attest to our calendars being full, which is why managing my time has become very important. Previously I inaccurately perceived 'busy-ness' as a badge of honour. However, when I observe some of the most productive people they don't often appear to be all that busy, yet they get so much
done and move the needle in some big ways.
Therefore, I've taken to being very thoughtful about how I choose to spend my time by adopting the 'Bullet Journal' technique—a game changer for me. It has forced me to purposefully plan each month, week and day ahead of time.
Another influential lesson has been writing down my thoughts. Should any leader in any type of organisation not think of themselves as a good writer, they should go take a writing class. As leaders, we are asked to communicate ideas to others—whether in a roadmap, a strategy, or the direction we are moving toward. While it's true that a lot of that information takes place verbally, leading up to that verbal interaction, by writing those thoughts down in a structured manner with the correct wording you want to
convey, has really helped me to communicate with greater clarity to the organisation.
WHAT INDUSTRY CHALLENGE KEEPS YOU AWAKE AT NIGHT?
One of the big challenges, which I think we will get through as an industry, is 'Can government regulation keep up with the innovation that utilities are going to need to partake in? Can they unlock the incentives that utilities need to accelerate toward a clean energy future?' In a recent Oracle Utilities survey, it was evident that the cloud
was not being adopted as quickly in our industry as others because of regulatory issues like capitalisation.
Ninety-seven percent of the surveyed utility executives want to adopt cloud technology; however, 85% of those were very clear that the biggest barrier was the regulatory
framework that does not allow them to treat cloud software the same as on-premise software.
As a result, they are incentivised to adopt an older technology even though they know they should be selecting the cloud software. Therefore I worry that the regulatory frameworks are going to take longer to catch up and so create incentives that are sub-optimal.
WHAT TREND IN THE GLOBAL ENERGY SPACE DO YOU SEE BECOMING INTRINSIC TO THE OVERALL POWER NETWORK?
I think we are going to continue to become much more distributed. There will be an opportunity for utilities to take advantage of the electrification of vehicles. At this point, these are undisputed trend lines; it's just a question of how fast these trends will develop. These things in totality will force our industry to shift the business model.
If you think of distributed energy resources and the effect it has on the reliability of the grid; or that homes and businesses are becoming much more energy efficient using the latest technologies; or how utilities are going to collect revenue from all these electric vehicles distributed all over the grid, the very fundamental framework and business model of utilities is going to have to change. Something as basic as monthly customer billing using variable charges—is that the right way to charge customers? Or if you take a regulated utility from anywhere in the world that is compensated based on the capital assets and how they invest in their grid—is that the right way to compensate utilities?
Should we not rather be looking at how happy customers are with their utility, or what services outside of the utility core product offerings can be offered; such as smart home devices? When you look at these different trends and dynamics, some very core structures of the utility are going to change, and it's going to be a fun ride! I can't wait.