12 Nov 2019
LOVISA FRICOT NORÉN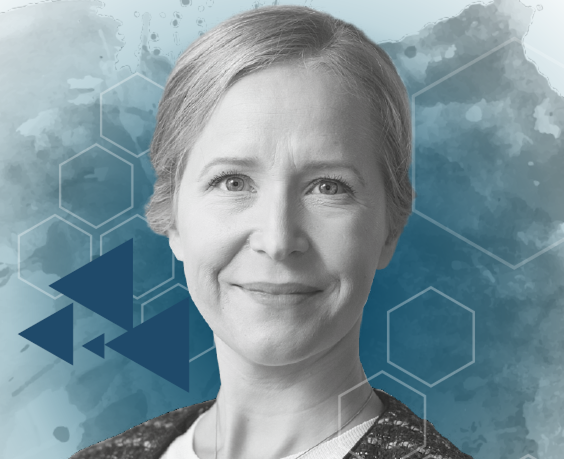 WHO HAS INSPIRED YOU TO GET TO WHERE YOU ARE TODAY?
My parents have been a great inspiration throughout my life. My mother has a combination of inspiration and structure and a very strong driving force and very good organisational skills. My father is very calm, social, optimistic and self-confident.
Another major influencer for me in the Swedish business community is Annika Falkengren, former CEO of one of Sweden's largest Banks, Skandinaviska Enskilda Banken.
WHAT DO YOU THINK MAKES A SUCCESSFUL LEADER?
Devotion, hard work and the ability to develop a strong team with good co-workers.
WHEN MEETING OTHER LEADERS, WHAT ONE QUESTION DO YOU LIKE TO ASK?
How do you create a management model that can handle the control and follow up within an organisation, while adapting to the fast pace of change in the external environment?
WHAT ARE YOUR GREATEST STRENGTHS?
I have a very strong driving force coupled with devotion and commitment towards the goals and objectives that I set for myself and my organisation. I'm good at structuring things up and I like to get things done!
WHAT ARE YOUR GREATEST BLIND SPOTS?
I am not a very good listener, which I have been working with for years and years, and I think I will always work on it [laughs]. Sometimes, I move too fast in order to achieve results. I try to involve my team earlier in the process and work on the solutions together. I also try to get better at celebrating small wins along the road, not only pushing onto the next task.
WHAT TIPS DO YOU HAVE FOR KEEPING A TEAM MOTIVATED?
It's very important to inspire by keeping the vision in mind. In combination with this, celebrating the small steps along the way makes the long-term objective more realistic and achievable. And on top of this, a leader should always try harder to be a role model and show that they are working together with the team to achieve the same goal.
WHAT'S THE BIGGEST RISK YOU'VE EVER TAKEN?
I would say taking on my current position. The energy industry itself was, and still is, facing enormous challenges with the energy transition and climate change.
WHAT IS YOUR 'SECRET SAUCE' FOR FOCUSING ON THE END GOAL AMONGST THE NOISE?
In the end, it is having a good structure. The short term will always come running after you but the long term you have to fight for. Therefore, dedicating time to organising your work in such a way that you have time to deal with the long-term questions.
WHEN PARTNERING WITH AN ORGANISATION, WHAT FACTORS ARE DEAL-BREAKERS FOR YOU?
The person or organisation must be true to what they are trying to achieve. And I want to know what they are trying to achieve; it doesn't have to be the same thing as me but we should be able to collaborate with trust and respect.
WHAT'S THE BEST BOOK YOU'VE READ THIS YEAR?
Oh, that might be 'Factfulness' by Hans Rosling, Ola Rosling and Anna Rosling Rönnlund—it's really important to have a fact-based view of the world and a critical mind.
WHICH OF YOUR LEADERSHIP SKILLS WAS THE MOST DIFFICULT TO DEVELOP?
I am still working on my patience and listening skills. I am also trying to work at being a better coach, giving others the room to find their own solutions rather than me trying to solve all problems.
WHAT'S THE MOST IMPORTANT LEADERSHIP LESSON YOU'VE LEARNED?
You are never finished! Every decision made is often the best one possible at that point. Afterwards, it's easy to evaluate the decision, because you have much more information. Therefore, have respect for yesterday and the decisions made at a given time, but always try to do better and, when needed, make new decisions for the greater good of the team and the company. Working in an industry which is evolving at a rapid pace, change in decision making is often necessary to stay ahead of the game. New times, new information, new circumstances, new decisions.
HOW DO YOU ACHIEVE BALANCE IN YOUR LIFE?
Oh, I don't. [laughs] I, of course, spend time with my family and friends; I work out regularly and I like to work in my garden which takes my mind off business. Balance is something that you have to work on as it isn't something that you can check off in a box.
WHAT INDUSTRY CHALLENGE KEEPS YOU AWAKE AT NIGHT?
None, I sleep well [smiles]. The biggest challenge, in my mind, is climate change and how our energy system needs to change in order to adapt. Resource efficiency and more of a circular economy is crucial to solve the future energy system.
As a DSO (electricity distribution system operator) the net-capacity questions—locally, regionally, nationally and on a European level—are very important. And the ability to integrate big volumes of intermittent renewable electricity into the system.
It's all connected with climate change and the way we use digitalisation and our competence in a way that we can solve this in an economically viable and sustainable way. How can we with smart technology and investments in traditional technology make sure that our capacity on the grid can handle intermittent renewable energy in much higher volumes? How do we handle new types of users including electric vehicles? This is a complex challenge and we have to work with it on many different levels, which has inspired me in the work that I am doing.
WHAT TREND IN THE GLOBAL ENERGY SPACE DO YOU SEE BECOMING ENTRENCHED INTO THE POWER NETWORK?
I would say that it's the question of capacity in the grid. It's very important to address capacity on a local, regional, national, and continental level and how to balance power networks because we will have much more unplannable renewable energy. It's this unplannable part—we can't decide when the wind blows or the sun shines—combined with electrification that creates new types of electricity consumers, that is difficult. We need to find new solutions and business models.
Access the full digital magazine here