12 Nov 2019
JOANNA HUBBARD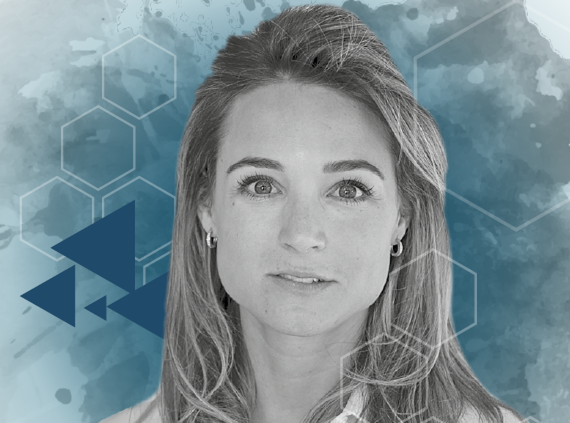 WHO WAS YOUR ROLE MODEL DURING THE PIVOTAL STAGES OF YOUR LIFE?
I have been lucky enough to be surrounded by amazing founders from a very early age: my parents. Both set up companies straight out of school and my brother and I were brought up with problem solving sessions around the breakfast table. My brother runs an Edtech company called mytutor.com and is a constant source of energy, support and biting rationality.
I also learn a lot from reading or listening to the experiences of other founders. Generally, I find far more learnings in fallible founder stories (e.g. 'Lost and Founder') vs the brave heroics of the successes (e.g. 'The Hard Thing about Hard Things').
WHAT DO YOU THINK MAKES A SUCCESSFUL LEADER?
I suspect that's deeply contextual and depends on the type of problem you are solving and the timing of the solution. There has to be a unifying thread through around being able to identify and bring together the right people for that time.
WHEN MEETING OTHER LEADERS, WHAT ONE QUESTION DO YOU LIKE TO ASK?
Are you ok...?! [Laughs]
WHAT ARE YOUR GREATEST STRENGTHS?
I think the one I draw on most is my resilience; it is foundational in a startup! And a lot of energy… [pauses] I am also a big communicator, I want to know what and how people think and I want to be able to share how we see things at Electron. In the context of the flexibility market design work that we are involved in, so many new stakeholders need to be engaged in a series of complex considerations that transect technology, politics and economics. Landing on relatable communication formats is a big advantage; it can set you up as this lightning rod for other people's contingent ideas.
WHAT ARE YOUR GREATEST BLIND SPOTS?
I wish I knew…
No, seriously, but there are a couple of tricky trade-offs that I am aware of.
One is the difference in pace between advancements in the software space vs systems upgrades in the energy sector. Trying to stay on top of everything but not getting too far ahead so as to lose your clients is tough and there's quite a wide gulf between fax machines and blockchain to fall into here!
Another is the gap between what customers are asking for now vs what we think they will want in the future. We missed a couple of big opportunities by not saying yes, and you get very few points for being right but two years later.
WHAT TIPS DO YOU HAVE FOR KEEPING A TEAM MOTIVATED?
There is a golden balance between giving someone ownership and setting up the right internal support structures and alignment processes such that they are achieving these goals within the broader context of the company.
It's very hard to get this right the first time—and the balance itself shifts throughout a project—so it needs to be done with open communication lines coupled with constructive feedback. This means we can iterate from a place of increasing knowledge and trust.
WHAT'S THE BIGGEST RISK YOU'VE EVER TAKEN?
Electron is the biggest and greatest yet!
As a founder, I feel huge responsibility towards the team that has come along this journey with me and through all this uncharted territory.
WHAT IS YOUR 'SECRET SAUCE' FOR FOCUSING ON THE END GOAL AMONGST THE NOISE?
If I'm sleeping and exercising regularly it's easier not to get lost in the noise. At big crunch points when I am depleting those reserves, I find it helpful to get away from the desk and go for a walk to get some headspace.
WHEN PARTNERING WITH AN ORGANISATION, WHAT FACTORS ARE DEAL-BREAKERS FOR YOU?
For meaningful engagement we only work with partners who put people first and treat their teams and partners with respect. This is sadly not always a given in this space yet. Also, diversity is key—and a leading indicator of how prepared that company is to listen to new thoughts and challenges, how focused they are on the right solution vs individual advancement or the grind of corporate process.
WHAT'S THE BEST BOOK YOU'VE READ THIS YEAR?
One of the most thought-provoking books I've read recently is 'The Age of Surveillance Capitalism' by Shoshana Zuboff. It's talking about the shift to this data economy in which predicting and then influencing future behaviour is the key currency. And, interestingly, the point at which users of companies like Facebook and Google stopped being their customer, the customer became the corporate advertisers instead.
It made me think a lot about the parallels of the customer service model shifts coming in the energy industry, specifically around what it will take to allow third party control of behind the meter assets (my guess is probably more on consumer functionality vs financial incentives) and how we can protect against data monopolies. I am excited about the movements Europe is making towards personal data ownerships and Open Data movement in the UK led by the Energy Data Taskforce.
WHICH OF YOUR LEADERSHIP SKILLS WERE THE MOST DIFFICULT TO DEVELOP?
Patience. I am still working on it…
WHAT'S THE MOST IMPORTANT LEADERSHIP LESSON YOU'VE LEARNED?
Don't be afraid to put your head above the parapet; it's where some of the best people and ideas will find you.
HOW DO YOU ACHIEVE BALANCE IN YOUR LIFE?
The balance comes and goes which is generally fine because I love what I am doing. Hopefully this aligns with the natural ebb and flow of my own energy. For when it doesn't, I have a brilliant cofounder and team with different energy rhythms.
WHAT INDUSTRY CHALLENGE KEEPS YOU AWAKE AT NIGHT?
How we make the transition to a distributed, zero carbon grid fast enough to protect as much as possible of our way of life. We are in such a privileged position to make this change in that we finally have all the technology that we need. But there are still a lot of decisions to be made on the economics and politics of market design—there are so many trials going on now in this space, particularly in Europe, and everyone is watching!
WHAT TREND IN THE GLOBAL ENERGY SPACE DO YOU SEE BECOMING INTRINSIC TO THE OVERALL POWER NETWORK?
Somewhere, between 10% and 50% penetration of zero marginal cost generation, we will need to shift from selling MWh to selling the other attributes of power e.g. location, inertia, greenness etc. The time is coming sooner than we realise and that is why we are developing a flexibility exchange on which the counter-party is a specific energy asset, with an associated set of attributes, and not a trading house, with an associated credit risk. By 2029, in renewable heavy markets, we predict that 25-40% of power could be transacted in near real time balancing and flexibility markets.
Access the full digital magazine here