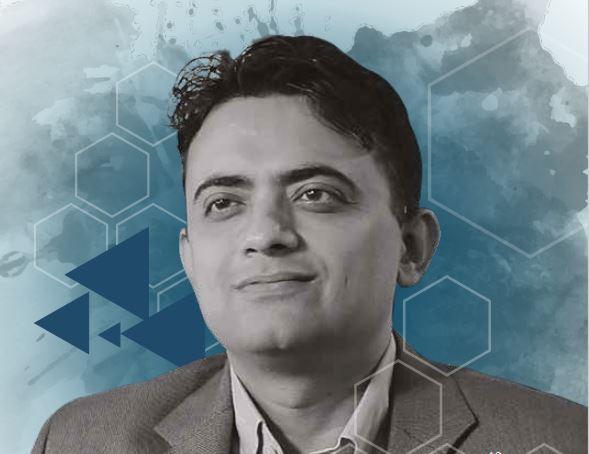 WHO HAS INSPIRED YOU TO GET TO WHERE YOU ARE TODAY?
Growing up, I took inspiration from Mahatma Gandhi who had the ability to drive an entire nation towards the vision of independence. As I moved into my professional career at General Electric (GE), in 2003, the company was at a time known as the 'Leadership factory of the corporate world' where it was generating some of the brightest leaders. I was inspired and motivated by the legend, CEO Jack Welch. After 11 years at GE, many of my leadership traits and much of my ability to understand different aspects of leadership are still inspired by how Jack's theories were instilled then, and will be in the future of GE.
WHAT DO YOU THINK MAKES A SUCCESSFUL LEADER?
The success of a leader encompasses two parts. The first is something I like to call the core factors, which are non-negotiable in any leadership role—humility, courage, and transparency.
A leader should be humble about themselves and how they portray their work to the team. You have to embody courage in order to make difficult decisions at times, and be clear and open about the decision paths. However, those leaders that have identified themselves as being extraordinary and legends, have exhibited a unique characteristic: the generosity gene. Those with this gene have a genuine love of people and the growth and development of the team, ego and personal aspirations don't get in the way.
WHEN MEETING OTHER LEADERS, WHAT ONE QUESTION DO YOU LIKE TO ASK?
"What is your perception of how your team is feeling these days?" I usually ask this question to see if leaders know the pulse of the team well enough. It is only then that they grow to be good leaders, when they know their team well enough.
WHAT ARE YOUR GREATEST STRENGTHS?
The biggest one that I have developed through experience and opportunities over the years is confidence, which is backed by the courage to make difficult decisions. This is part of my role, as many of the projects we are working on globally come with their unique set of challenges that need to be solved by making the best decision at a specific point in time.
Secondly, I enjoy connecting with diverse cultures, especially within the areas I work, to gauge the impact we will be leaving long after a project has been implemented.
WHAT ARE YOUR GREATEST BLIND SPOTS?
The feedback that I have received from my teams is that I am an impatient leader at times, which is something that I still have to work on.
WHAT TIPS DO YOU HAVE FOR KEEPING A TEAM MOTIVATED?
Motivation is really important for us as a global organisation, because generally we fail nine times out of ten before we achieve success. The way I do this, and in my opinion the way I think it works, is to remain transparent with your team, which people respond well to. I consider my team a critical part on the journey to success. If there is a failure, we talk about it openly, be it operational or at a management level, and together we work on a solution. It is also important to address the elephant in the room head-on. I don't beat around the bush when I know that the team has something on their mind that they are not able to articulate as clearly as they might like.
Generally, there are three things that a team expects from their leader: 1) be very clear on setting expectations for your team; 2) articulate what it is going to take to get there, no matter how challenging some of those steps may be; and 3) identify the benefits/ incentives for the team should they reach the end-goal.
WHAT'S THE BIGGEST RISK YOU'VE EVER TAKEN?
After three years of working with Greenlight Planet within a finance position, I took a personal challenge of moving into commercial business development, specifically within
distribution, which is one of the hardest-to-sell areas.
The trust and faith that I have in this company was my biggest motivator for this career path diversion. The company culture and my relationship with the management team, 'relaxed' any fear I may have otherwise had with taking a risk of this nature.
I love what I am doing today and it's a great spot in terms of the types of challenges I get to work on.
WHAT IS YOUR 'SECRET SAUCE' FOR FOCUSING ON THE END GOAL AMONGST THE NOISE?
I think about this very consciously. Before I dedicate a significant amount of my mind-share to a project, I ask myself the following questions:
1. Does this matter to our investors?
2. Does this matter to our customers?
3. Does this matter to our teams?
If not, then I simply don't work on it.
WHEN PARTNERING WITH AN ORGANISATION, WHAT FACTORS ARE DEAL-BREAKERS FOR YOU?
Integrity is a non-negotiable. If I can't trust a person that I plan to work with I won't hesitate to walk away.
WHAT'S THE BEST BOOK YOU'VE READ THIS YEAR?
'Leaders eat last' by Simon Sinek. I really enjoyed how this book brought back the basic foundations of leadership that are easily crowded by the day-to-day humdrum of our lives.
WHICH OF YOUR LEADERSHIP SKILLS WERE THE MOST DIFFICULT TO DEVELOP?
The ability to determine 'who' and, just as important, 'who not to' count on. It is for me to identify whether a person is at the right level of maturity, evolution and competency to be able to count on that person to deliver.
This wasn't something that I could figure out in my early years of leadership; it has definitely come with years of experience and self-reflection.
WHAT'S THE MOST IMPORTANT LEADERSHIP LESSON YOU'VE LEARNED?
There are times when you lose good people who leave you with a lesson that you should guard close to your heart. Those elements of the business that you believe are good are obviously not good enough. The most invaluable lesson I have learned is that there is a moment of vulnerability that happens to all individuals in their corporate life, where they think of leaving the company—this happens regardless of how well that person is performing or the level of treatment they are receiving—and it is important for a leader to know when this moment has been triggered. Of course, this is not something that can be easily tracked, which is why it is still a work in progress for me.
HOW DO YOU ACHIEVE BALANCE IN YOUR LIFE?
Quite honestly, I think balance is an overrated concept. Some of the best moments I recall were when I was totally out of balance. However, I do think that balance is important and itis subjective to the individual. When you play, play hard and when you
work, work hard.
WHAT INDUSTRY CHALLENGE KEEPS YOU AWAKE AT NIGHT?
Regulation. Our industry is getting bigger and more complex as more innovation enters the market—pay as-you-go; consumer financing—the regulatory environment is becoming stricter, especially in Africa, which is what we keep a close eye on.
WHAT TREND IN THE GLOBAL ENERGY SPACE DO YOU SEE BECOMING ENTRENCHED INTO THE POWER NETWORK?
I think the most fascinating thing is that the last billion people—the 'underserved consumers'—are the consumers who will all have reliable access to energy in the cleanest way.
They will be the ones who are going to benchmark and lead the way in making climate change reductions a reality for us by showing how structurally the energy they consume is different from the rest of the six billion.