12 Nov 2019
Waste transformed into value on-site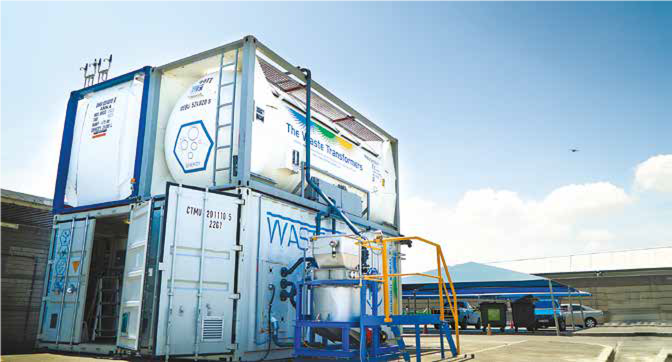 SMART CITIES
Future cities will play a significant role in the value extraction of organic waste streams, to contribute toward a sustainable impact on the environment and on industry. Netherlands-based innovators, The Waste Transformers, have anticipated this global opportunity by empowering local food waste producers to transform their organic waste streams into clean energy, natural fertiliser and raw materials for new products such as paper and textiles.
Through an innovative containerised anaerobic digester, called a Waste Transformer, non-consumable food waste streams are transformed into clean energy and a high-quality natural fertiliser, all on-site. The modular Waste Transformer, which is a scalable, smart technology, is suited to organisations and municipalities, with a healthy business case and provides a new way to reduce companies' waste management costs, environmental footprint and energy consumption.
Anaerobic digestion goes a couple of steps further than composting organic waste, and is a world apart from dumping it on landfill to rot. On-site anaerobic digestion produces clean energy, enabling the technology to run on its own produced excess power. The fibres in the digestate are separated from the liquid, producing two organic end products; liquid fertiliser and dry compost. That organic fertilizer is not only a good source of income, it is also very important in fighting climate change and promoting long-term food production. Nutrients in the soil are stored in food, and are aggregated in cities. Nutrient flows end up there and do not flow back to the rural areas (farmland) anymore as natural fertilizer. Every year, more farmers have to deal with degraded soils and pose a dependency on artificial (oil based) fertilisers depleting their soils.
CAPE TOWN, SOUTH AFRICA: A CASE IN POINT
With different projects around the world, the company has found its momentum in Africa as well. The Waste Transformers and Growthpoint (South Africa) have united to take on the challenge of leveraging non-consumable food waste from shopping malls, to generate a decentralised change in the approach to organic waste in South Africa and around the world.
One of the reasons behind Growthpoint looking for alternative clean waste management practices is due to the Western Cape limiting the removal of organic waste from operating buildings to landfill sites. Cape Town has announced that it wants a 100% reduction of wet waste to landfills by the year 2027. Growthpoint is trying to reach that target by 2020, while Cape Town is hoping to reach a target of 30% by that time.
In 2018, an on-site, anaerobic digester was installed at N1 City Mall, Cape Town, South Africa. The Waste Transformer is processing the nonconsumable food waste from the shopping mall to generate biomethane. This methane is turned into green electricity and heat for use within the shopping centre. The organic fertiliser is used in the mall gardens and local golf course. It is an on-site, smart, green, transportation-free approach to realising zero waste to landfill.
The Waste Transformer was built in the Netherlands and then shipped to its new location in Cape Town. The mall prepared the site to ensure connectivity between the Waste Transformer, the power network and utilities. With these preparations in place, the Waste Transformer was up and running within one week. The organisation running the Waste Transformer is trained on waste separation by the Waste Transformer's specialists. The restaurants and shops in the mall were trained on the new do's and don'ts of waste separation. The biggest change within the organisation is that the waste is no longer collected by waste trucks and dumped on a landfill, but rather treated on-site, ie. the organic waste stream is separated at the source.
The Waste Transformer has been running at this location since 2018, where consumers are encouraging these corporate efforts to revalue non-consumable food waste. It makes consumers more aware of what they throw away, and awareness of that behaviour leads to reduced food waste.
From an organisational perspective, the operation of the Waste Transformer did not require significant changes in the operations of the mall staff. Separation of the waste was already implemented, such as paper, plastics and cans. With the on-site system, organic waste is now being sorted at the source, in restaurants and kitchens. A final check on contamination is done at the Waste Transformer before it is fed.
Average savings with 600 kg per day:
• 197,000 kg of waste not being transported to landfill per year
• Combined heat and power savings of 120,000 kWh per year
• 165 tonnes of fertilizer and compost for replacement of bought fertilizer per year.
INNOVATION
The Waste Transformers was started by Lara van Druten. Lara had one goal: to create a flourishing business that inspires others to change the way that they deal with waste and to establish a business model able to balance financial, social and environmental returns. The Energy and Environment Partnership covering Southern and East Africa (EEP Africa) is a multidonor fund providing early stage grants and catalytic financing to innovative clean energy projects, technologies and business models. Since 2010, EEP Africa has been at the forefront of efforts to fast-track clean energy access, as well as sustainable and inclusive green growth, channelling more than $63 million to 200+ pioneering projects with positive impacts on lives and livelihoods.
TIMELINE
During the design phase, efficient local implementation and operation of the Waste Transformer was made a key feature of the installation. Flexible shipping in cargo containers, modular to the local needs and constructed to connect on-site and be up-andrunning within a couple of days. With online connection, the Waste Transformers is monitored 24/7 by the experts in the Netherlands. During installation, the client is trained with a new waste management plan.
Operating the Waste Transformer itself is taught by the Waste Transformer team on-site. The organisation is trained to separate the organic waste at the source. Signs on bins invite people to separate their waste to be part of the positive impact generated.
PROJECT RESULTS
The Waste Transformers are scalable according to needs. Sizes range from small, medium to large and processing can range from 600 kg to 3,600 kg per day. Compared to large-scale incineration plants or landfills, 600 kg per day is a drop in the ocean. But due to the simplicity of having various Waste Transformers placed on different sites, the impact lies in the replicability of the system.
The on-site Waste Transformers reduce the need to transport organic waste over long distances to landfills, eliminate smelly bins at the back of the house, reduce CO2 emissions associated with diesel production and transportion to the landfill. The high-quality digestate, in the form of liquid natural fertiliser, can be used in the local gardens and for agricultural purposes, reducing the pressure on the freshwater supply of the region. It's a win-win-win, for the city, N1 City Mall, consumers and the environment.
By disseminating project information to the community and generating awareness around sustainable waste management, it is encouraging to see buy-in from individuals and organisations alike who are promoting commitment to green living. The ultimate goal is to shift consumer behaviour by ensuring the solution is NOT out of sight. When processes are out of sight, they don't impact people's behaviour. Having a Waste Transformer in strategic places within a country, showcasing what innovative things you can do with waste, will inspire people to think about what they throw away, causing less waste, and creating local opportunities for upcycling waste into new products.