12 Nov 2019
The urban trend of smart streelights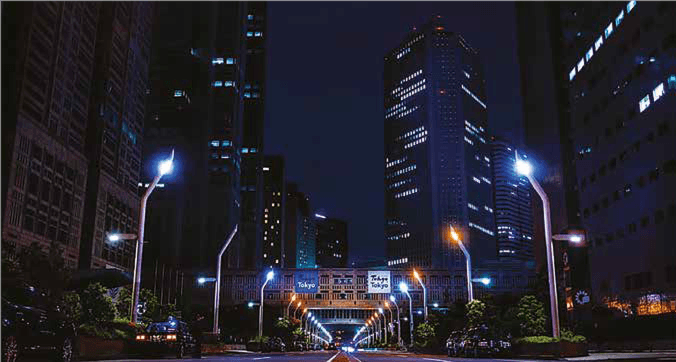 SMART CITIES
Smart city development has become a truly global market, with significant activity in all regions and most countries, according to Navigant Research's 2019 Smart City Tracker. New projects show continued investment in open data platforms, EV charging, smart grid technologies, networked LED streetlights, advanced traffic management, energy efficient buildings, water management, and government service applications for Smart Cities. This assertion is supported by market intelligence firm ABI Research stating that annual global smart street lighting revenue will grow 10-fold to reach $1.7 billion in 2026 with communication solutions based on low—power wide—area (LPWA) network technologies.
Oceania, mainly Australia and New Zealand, has been identified as one of the most rapidly expanding regions in terms of the rollout of smart street lighting and related communication technologies. Australia and New Zealand are expected to invest up to $780 million through the mid-2020s to convert up to 95% of existing streetlights to LED models of which 70% will be networked by 2027.
UK-based smart street lighting company Telensa is specialised in the connected street lighting and Smart City data applications market. Nominated for two projects in the US and Australia, these two regions are realising the benefits of deploying smarter, future-ready streetlight infrastructure.
HARRISBURG, PENNSYLVANIA The municipality in Harrisburg, the Pennsylvania state capital, is a case in point. The city started its smart city journey in 2015 by selecting Telensa to provide their connected street lighting system to reduce energy consumption, reduce maintenance costs, improve service levels and future-proof their lighting infrastructure.
In the case of Harrisburg, streetlights had been the city's largest non-personnel cost accounting for 60-70% of the city's utility bill. Converting to LEDs with controls has reduced energy consumption—saving $510,000 annually—reduced maintenance costs by $60,000 annually and removed 5.7 million pounds of CO2 from the environment. The energy savings were achieved by trimming on/off times and adapting for LED output and cleaning.
"We live in a data-driven world, but we're not going to monitor stuff just to monitor it—it has to make sense to the city!" said Wayne S. Martin Esq., Harrisburg's City Engineer. "That's why we have chosen these Smart City applications to open up endless possibilities for us to improve city efficiency and save money as the dollars can really add up." Maintenance costs were reduced as connected street lighting provides data that enables a more informed response to enquiries and issues, pro-active response to faults, fewer night patrols and better firsttime fixes through more effective planning. Light levels were adapted to events in real-time and sensor-based lighting levels could be monitored and managed by the IoT platform. Fast forward and Harrisburg is now using its connected streetlights' physical and network infrastructure to rollout additional smart city technologies. Ultimately, Harrisburg is future-proofed.
DARWIN, AUSTRALIA
In March 2019, Telensa was selected by the City of Darwin to deploy its PLANet intelligent street lighting system. In one of the largest council run projects of its type in Australia, Darwin will replace close to 10,000 lights on its street and public lighting network with wirelessly connected LEDs. They will be controlled by a Central Management System (CMS) and hosted in Australia by Amazon Web Services. This project follows a Northern Territory Government initiative to transfer the control of streetlights to councils, with some now contracting for LED and smart controls upgrades. By selecting a system proven at mass scale across the world, the City of Darwin was able to move directly to full deployment, eliminating the need to run a pilot system.
The street lighting system consists of wireless nodes connecting individual lights, a dedicated wireless network owned by the city, and a central management application. The system pays for itself in reduced energy and maintenance costs, improves quality of service through automatic fault reporting, and turns streetlight poles into hubs for Smart City sensors.
"Key infrastructure projects such as street & public lighting demand the highest standards to ensure reliability and value for money, and Telensa's proposition more than satisfies both of those criteria," said Scott Waters, Chief Executive Officer, City of Darwin. "With Telensa's PLANet system, Darwin will be able to reduce costs while improving our street and public lighting service. This project is another example of the City of Darwin's leadership, delivering a safer, smarter, and more efficient environment for our community.
"We are excited to be working with the City of Darwin to deliver a modern, efficient and resilient street & public lighting system that will effectively respond to the community's needs for decades to come," said Will Gibson, Founder and Chief Commercial Officer at Telensa. "Telensa's flexibility and scalability means that we are able to begin deployment straight away, and we're looking forward to working with the City of Darwin on low-cost smart city applications which can be enabled by the city's new lighting network."
According to the City of Darwin's website: "Street lighting can have a major influence on both the appearance and ambience of a city. It can also affect when and how a space is accessed and how the space is used.
The provision of lighting can also bear a significant cost from both an energy consumption and infrastructure maintenance perspective. The ability to control illumination, i.e. brightness and timing, through sensors can yield cost savings while maintaining the usability and safety of an area. The motion sensors can also provide key insights into when a space is most used through statistical analytics."
Telensa is clearly on a mission to help cities around the world save energy, work smarter and deliver more joined-up services for their citizens. Based in Cambridge in the UK, with regional operations in the USA and Australia, it futureproofs city operations driven by data intelligence, trust and transparency.
Access the full digital magazine here