12 Nov 2019
Thailand's first certified climate bonds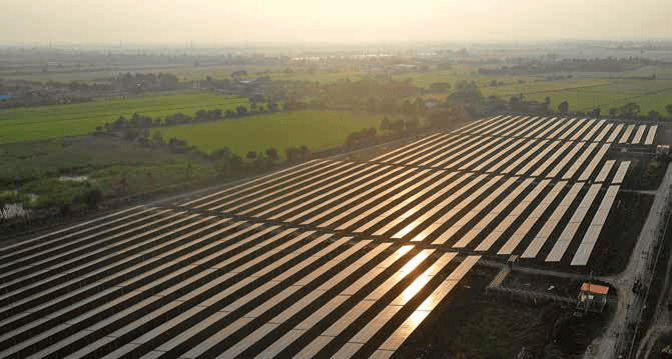 Finance & Investment
Thailand's green bond potential has been recognised with the issuance of the country's first Certified Climate Bonds which will finance solar power plants with the potential to generate over 140,000 megawatt-hours of clean energy per annum as the country strives to achieve its 20% greenhouse gas emissions target.
Green bonds are a fixed-income debt instrument used exclusively to finance or refinance new or existing green projects with environmental or climate-related benefits. Global green bond issuances in 2007 were around the $0.5 billion marks, but by 2018 they had shot up to $167.6 billion, although there is still considerable growth potential for green bonds within global and regional bond markets.
Thailand, in particular, offers great opportunities for the development of an active green bond market because of its renewable energy potential and its active general bond market, which is the largest among Association of Southeast Asian Nations (ASEAN) members.
The Thai bond market's annual issuance of long-term corporate bonds totalled 879 billion Thai baht (about $29 billion) in 2018, although to date, banks have been the main financiers of renewable energy projects. Thailand's first green bond was only issued in 2018, by Thai bank TMB.
At the end of 2018, the Asian Development Bank (ADB) approved an investment of 5 billion baht (some $155 million) in the maiden green bonds of Thailand's B.Grimm Power Public Company Limited (B.Grimm Power). These were also the first Certified Climate Bonds to be issued in Thailand. Proceeds will finance renewable energy projects in Thailand, helping to support a low-carbon pathway for sustainable economic growth.
B.Grimm was established in 1993 and is one of Thailand's largest private power producers with a total capacity of 2,045 megawatts (MW) across 15 gas-fired plants. In recent years, it has diversified into renewable energy and now also operates 15 solar power plants. Based on this success and strong potential for expansion in (ASEAN) countries, B.Grimm plans to increase the share of renewable energy generation in its portfolio from 10% to 30% by 2021.
B.Grimm issued the 5 billion baht green bond, in tranches with 5- and 7-year tenors, as part of an overall corporate bond issuance of nearly 15 billion baht (approximately $465 million). The issuance was a landmark in the development of the green bond market in Thailand and the region. The green bonds were the first Climate Bond Standardcertified bonds in Thailand and the first Green Bond Principlescompliant green bonds issued by an energy company in Thailand. The proceeds from the bonds will be earmarked for nine operational solar power plants with a total capacity of 67.7MW, along with seven solar plants still under construction in Thailand that will offer an added total capacity of 30.8MW.
Since this issuance, there has been a significant increase in interest from other potential issuers of green bonds in Thailand. B.Grimm's successful issuance of the first Certified Climate Bond in the country has already been recognised by a number of industry bodies, including by the Climate Bonds Initiative, at the Asset Triple A Asia Infrastructure Awards 2019 and at the Asian Power Awards 2019.
The support of ADB ensured that the bonds were recognised as Certified Climate Bonds under the Climate Bonds Standard (CBS). ADB assistance also helped ensure that the bonds adhered to the International Capital Markets Association's Green Bond Principles (GBP) and ASEAN Green Bond Standards. CBS and GBP are the two most highly recognised standards of green bonds based on international best practice.
The ASEAN Green Bond Standards are a regional standard which was developed with ADB-assistance.
More green investments on the horizon
This investment was made in line with ADB's new Strategy 2030, which mandates that at least 75% of the number of ADB's committed operations must support climate change mitigation and adaptation by 2030, with climate finance from ADB's own resources reaching $80 billion over the period from 2019 to 2030. This was at the time ADB's second green bond financing. ADB had extended a guarantee to support a green bond issue for the Tiwi and Makban geothermal power project in the Philippines in 2016. This was, in turn, Philippine's first green bond offering. ADB has also since supported a landmark Singapore-listed climate bond issuance by
AC Energy, the energy generation business of Ayala, one of the largest business groups in the Philippines.
The transition to clean energy sources is important for project developers and other issuers because companies or projects tagged as having significant greenhouse gas emissions may increasingly be penalised in the capital markets. Climate-friendly investments, on the other hand, can often attract new investors, positive media coverage and in some cases more attractive financing terms.
The threat of global warming and climate change has finally made the finance sector begin to consider climate mitigation and adaptation opportunities in their investment decisions. This shift in approach is seeing greater numbers of institutional investors prioritising investments in renewable energy.
For Thailand and other markets in Southeast Asia, the future of bonds is looking increasingly green.