12 Nov 2019
No more storage blues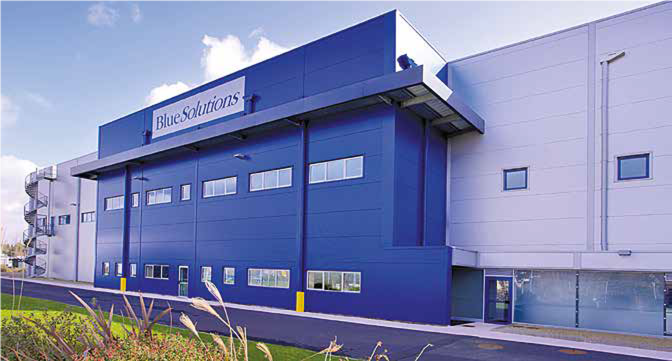 TECHNOLOGY
Automobile manufacturers are driving high demand for increased energy density and safety in battery technology. The race to e-mobility has venture capitalists and car manufacturers alike pushing significant investment towards the industry. According to Wood Mackenzie Power & Renewables and the Energy Storage Association, more than $2.3 billion has been poured into such technologies over the past two years around the globe.
Recent car manufacturer investment has veered toward solid-state technologies, which can provide the opportunity for greater energy density, while also eliminating flammable liquid electrolytes in lithium-ion batteries. Volkswagen, for instance, invested $100 million in QuantumScape in 2018, while Toyota and Panasonic started a joint venture to develop solid-state batteries in January 2019. Both Ford and Hyundai have also invested into Colorado-based Solid Power. These are welcome developments in the market where Blue Solutions' battery technology has been deployed in mobility for years.
Francisco da Silva Passos, business development manager at Blue Solutions, says: "We have more than 300 million kilometres covered by cars and electric buses," adding that Blue Solutions has been focused on intense use cases for car sharing. Since 2011, Lithium Metal Polymer (LMP) batteries have proven their reliability and robustness, powering fully electric cars and buses for millions of kilometres and energising many off-grid and on-grid installations around the world.
Historically, the first lithium batteries were built with lithium metal. One challenge for those batteries is that of dendrites. This is a crystal-like build-up of lithium metal that creates a contact between the anode and the cathode resulting in a short circuit or even a fire.
Many players in the battery sector decided to bypass the risk of dendrites by using other materials such as graphite. However, the risks linked with the use of a liquid electrolyte were not solved. A liquid electrolyte is flammable, which can cause those Li-ion batteries to combust under high pressure, heat, or current. Another solution to avoid dendrites is the use of a solidstate electrolyte.
Today, Blue Solutions is the only one to master and commercialise a lithium battery with a solid electrolyte. This expertise comes from the two centuries of production of thin paper derived then for the production of plastic and now of polymer electrolyte.
Ultimately, Blue Solutions lithium batteries—as opposed to the mainstream liquid or gel electrolyte batteries—offer better energy density, safety and robustness (no sensitivity to external temperatures). The holy grail of rechargeable batteries—the solid-state lithium metal battery—is now on the way to provide safer batteries adapted to the harshest environments and the toughest safety requirements.
There is no risk of fire, leakage or offgassing and there is no risk of thermal runaway. Their effective functioning at temperatures reaching from 60°C to more than 105°C allows an easier thermal management. In fact, DCDC efficiency up to 98% is achieved regardless of the ambient temperature. These batteries are also insensitive to climate conditions. No cooling system is required, leading to enhanced performance, greater reliability and simplified maintenance. This ultimately ensures a satisfactory lifespan, even in hot conditions.
Further to the topic of lifespan, depending on application, more than 4,000 cycles can be achieved with a constant capacity. Solid-state batteries contain no solvents, are free of cobalt and nickel, leading to an optimised LCA, and can be recycled and reused due to the use of lithium in metallic form.
Blue Solutions deploys the only 100% solid-state battery in the world and has been for almost a decade. After more than 20 years of research and development, they remain the only company in the world that manufactures and markets the 'all solid-state battery, Lithium Metal Polymer (LMP). The battery is composed of thin films produced from extrusion techniques mastered by the Bolloré Group. The technology, designed and manufactured in France and in Canada, has many advantages. In particular, the LMP batteries have high energy density and are safe to use, operating without the risk of a thermal runaway.
They can withstand high outdoor temperatures of up to 65°C without the need of a cooling system as other technologies do. It is the most sustainable storage system in the market. Its solvent-, cobalt- and nickel-free composition guarantees independence from sourcing socially and environmentally impactful materials. It's recyclability considerably optimises the total cost of ownership and LCA.
Beyond mobility, where Blue Solutions may stand out from most, is in its offering of solid-state batteries for stationary applications. So, why not lithium-ion? The main advantage of solid-state battery technology is that it cannot catch fire, mitigating many of the safety and security risks accompanying other battery technologies.
Furthermore, solid-state batteries provide a potential new set of benefits for microgrid systems. For microgrids in areas such as sub-Saharan Africa and Southeast Asia, simplified installation, maintenance and design could be highly desirable to reduce installation costs and unlock some of these markets.
Transport of the batteries also becomes easier. Lithium-ion batteries are typically shipped in refrigerated containers and must be stored in cooling warehouses. In Africa for example, it would be very difficult to maintain the temperature of the battery for lithium-ion technology. Solid-state batteries allow higher operating temperatures due to better thermal stability and thus no cooling requirements make it particularly interesting for these locations. Because of its high temperature technology, you could spend a lot of energy on heating it in order for it to operate in optimal conditions.
Eliminating cobalt, nickel and solvents, and capable of being recycled, the company's solid-state battery shows promise for a more environmentally and socially responsible battery solution than lithium-ion. Cobalt typically makes up around 15% of lithiumion battery cathodes. The price of cobalt has increased significantly in recent years, and its supply can be problematic.
Furthermore, the Environmental Protection Agency and the US Department of Energy undertook a study on the environmental impact of electric vehicle lithium-ion batteries. The results demonstrated that batteries that use cathodes with nickel and cobalt, as well as solventbased electrode processing, have the highest potential for environmental impacts, including resource depletion, global warming, ecological toxicity, and adverse effects on human health.
Access the full digital magazine here