12 Nov 2019
Next generation digital customer engagement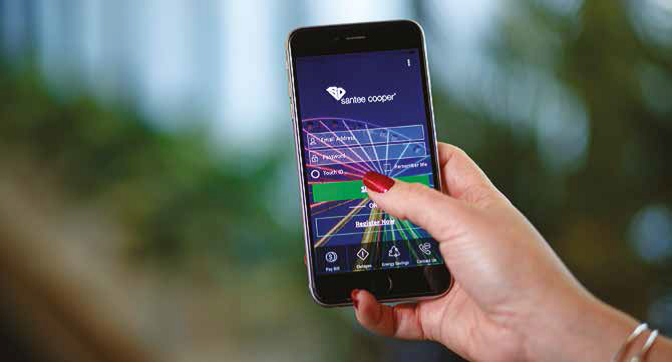 Santee Cooper is South Carolina's largest power producer and the ultimate source of electricity for 2 million people across the state.
Through its low-cost, reliable and environmentally responsible electricity and water services, it serves over 180,000 electricity customers directly. Part of Santee Cooper's Retail Business plan included increasing payment options for customers while reducing physical retail space.
The utility's main objective was to design a user-friendly platform to enhance utility-customer communication through meaningful and convenient interactions including managing accounts and paying bills online, but it was also essential to offer customers education around energy-saving practice programmes relevant to them.
In 2018, the utility launched an interactive self-service mobile app and online portal to empower their customers by putting up-to-date usage and billing information at their fingertips. Accessible through mobile phones, tablets and online browsers, the My Energy Link (dubbed 'MEL') enables customers to monitor their power usage and costs as well as analyse their consumption and energy spending compared to their historical usage during a two-year window period. The platform also allows customers to pay their bills directly, stay informed about outages and maintenance issues, and receive the latest energy-saving tips as soon as they go live.
After an extensive search, Smart Energy Water (SEW) was selected to partner with Santee Cooper by providing its Smart Customer Mobile (SCM) Software-as-a-Service (SaaS) cloud platform that has been designed to facilitate greater customer engagement while leveraging mobile and cloud technologies to offer total self-service capabilities. The utility was committed to pushing the envelope and to ensure that the new platform exceeded customer expectations.
They wanted a one-stop channel of communication through which could flow all consumption information, billing, the sharing of energy-saving solutions and notifications while providing a platform for placing and monitoring service and installation calls, connections and terminations.
To achieve all of this, a robust, user-friendly interface was required that could operate off a website or mobile device; while, for Santee Cooper, the big benefit was the substantial reduction in labour required to staff walk-in centres and handle call centre volume.
One of the major obstacles facing the project was around payment integration, as Santee Cooper decided to change their business model in order to offer customers the potential to make real-time payments. Only when the project was well underway was the decision made to switch from the utility's existing third-party credit card processor, as the early development and testing phases indicated that their provider would not be able to deliver the customer experience the utility wanted to offer its customers.
The decision to switch to third party payment providers was made a few months before the go-live date, with SEW's payment services being brought in to ensure as seamless customer experience as possible.
From the selection and procurement processes through to implementation and final acceptance of the system, it took the Santee Cooper team and their project partners approximately two years. The system's customer self-service architecture is complex and includes several integration points, including Santee Cooper's CIS (Oracle CC&B) and OMS (GE Power-On Outage Management System) as well as the third-party payment processor to facilitate realtime payment funding.
As at August 2019, close to a third of their customers had converted to MEL, and thanks to the rapid uptake of customers migrating from the utility's e-billing service to MEL – in addition to new customers signing up through the simple process – the impact of the digital initiative has been felt in terms of cost savings for customers and the utility.
The system allows new customers to submit and monitor service requests online while existing customers can transfer, discontinue or add electric service requests online. The platform is used to share information with customers on the utility's various programmes and incentives, while the fluid nature of the cloud will ensure that the product will continue to evolve and offer enhancements as it is fine-tuned to meet the ever-evolving needs of the Iodine State's clients.
Driven by the utility's mission of providing low-cost electricity and water services in a reliable and environmentally friendly manner, MEL ensures that customers are offered a wider range of payment options, while at the same time reducing the physical retail space required by the organisation to handle and process such payments.
The comprehensive and user-friendly platform is designed with self-help in mind to ensure customers can resolve most of their questions or requests online and in their own time.
To actively engage customers and promote the platform, Santee Cooper used digital outreach and marketing channels including email campaigns, blog posts, social media messaging and marketing, all of which succeeded in achieving increased customer adoption and experience. In less than 18 months from the go-live date, more than 51,000 Santee Cooper customers had already enrolled on the MEL platform and have become paperless billing customers. These customers are also now automatically subscribed to email billing and outage notifications.
In addition, the new platform has also encouraged greater customer awareness efforts regarding energy efficiency programmes; this forms a key part of Santee Cooper's environmentally conscious organisational mission. The SCM product is scalable and could easily be replicated in electric, water and gas utilities where seamless payment methods are essential to ensure the continuous supply of those essential services to customers, in addition to promoting responsible usage. For utilities, it is essential to take to the cloud in order to harness the full power of the technological advances sweeping the industry.
The utility's customer engagement offering aims to provide a full self-service experience that goes beyond the expectations of each customer, in addition to requests and complaints being resolved faster than when customers phone in or visit a help desk. However, the company appreciates the need to maintain some walk-in services as well as maintaining a reduced call centre for customers who prefer the old-school form of engagement.