10 Nov 2019
How China is turning up the heat of waste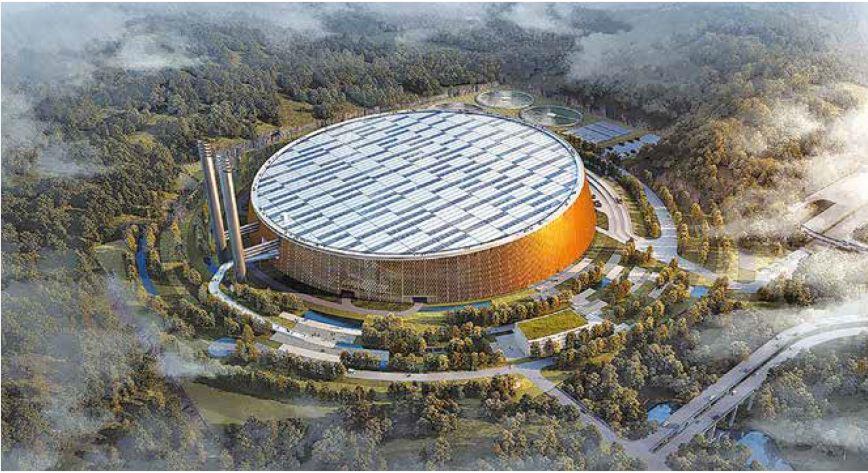 As the world is shifting toward adopting sustainable and effective methods to tackling the global waste crisis, innovative designs and forward thinking developments are being made within the waste-to-energy sector in China.
Waste generation rates are rising globally. According to World Bank figures, in 2016 the world's cities generated 2.01 billion tonnes of solid waste, amounting to a footprint of 0.74 kilograms per person per day. With rapid population growth and urbanisation, annual waste generation is expected to increase by 70% from 2016 levels to 3.40 billion tonnes in 2050.
The World Economic Forum (WEF) has labelled China the world's largest trash generator and by 2030 its volume of waste is projected to be double America's volume of municipal solid waste. While Chinese authorities are planning more incinerators for waste disposal, much of the country's waste still ends up in landfills, rivers or oceans. This situation places China in a prime position to innovate waste solutions.
In order to meet its waste management targets, China must ensure efficient and cost effective waste management. Operating this essential municipal service requires integrated systems that are efficient, sustainable, and socially supported. In many ways, waste-to-energy provides the answer with its dual-purpose technology, ridding urban areas of their growing waste, while generating electricity as a by-product.
Furthermore, the WEF states that the combination of digital economy proliferation and top-down policy targets, such as a 35% recycling rate for household waste by 2020, is creating opportunities for technology-driven waste solutions in China. In many ways, China is already an innovation superpower. It was one of the first countries to discuss a shift to a circular economy, back in 2002.
The country now seems poised to use its innovation engine to make the circular economy vision possible.
With a population of 20 million, Shenzhen produces 15,000 tonnes of waste a day, a number that is increasing approximately 7% per year. To counteract the region's growing waste challenge, Shenzhen Energy has developed an innovative plant that uses the most advanced technological processes in waste incineration, while acting as a source of education for the citizens of the city—The Shenzhen East Waste-to-Energy Plant.
The plant, which was commissioned in 2016, will be the world's largest once fully commissioned in early 2020, according to the project partners; Babcock & Wilcox Vølund, Schmidt Hammer Lassen, who in 2018 became part of global architecture and design firm Perkins+Will, Gottlieb Paludan and Shenzhen Energy Environmental Company controlled by Shenzhen Energy Group Co. located on the outskirts of Shenzhen, China. The new plant is designed to process 5,000 tonnes of waste per day, and generate 550 million kWh every year.
It is housed in a simple, clean, and iconic structure and is designed to be as compact as possible, improving efficiency of the main unit and auxiliary buildings.
The sheer scale and scope of this 165 MWe plant was profound, demonstrating innovation and drive to reduce waste pollution, while generating power for a large and growing nation. The project milestones and challenges would create an industry blueprint for other regions looking at similar projects.
The building features a circular form to control the footprint of the structure and lessen the amount of excavation required to build on the site. The scheme organises the entire plant, including auxiliary buildings, into one structure—breaking with the traditional rectangular layout of industrial facilities. The 66,000 m2 roof will be covered by up to 44,000 m2 of photovoltaic panels, providing the opportunity for the plant to not only provide a cleaner way to deal with the city's waste but also contribute to the renewable energy provision for the city.
In a modern waste plant like this one, 99% of the energy will be utilised for electricity and heating, 95% of the water is recovered, and if the domestic waste contains metals such as aluminium packaging for example, 90% of the metals will also be recovered. The slag is recycled as gravel, the flue gas is 95-99% clean, and unwanted substances are removed from circulation.
The design was not without its challenges. It was a challenge to develop a unifying architectural concept for a very large and complex technical facility in a sensitive environment, as well as integrate heavy technical infrastructure with public access and education facilities.
While the plant incinerates waste and generates power, it will be used as a teaching tool for residents, demonstrating the waste-energy cycle and the importance of lowering one's carbon footprint.
Public visitors are invited into the plant through a landscaped park via an entrance bridge that rises between the stacks to an entrance lobby and visitor centre overlooking the plant machinery. The project aims to display new developments in China's waste-to-energy sector and share them with the world.
The world's population will reach 9.8 billion by 2050, according to UN predictions, with 68% of those people living in cities, making solutions that remove urban waste and produce energy attractive to investors. China has the largest installed waste-to-energy capacity of any country, with more than 300 plants in operation. This capacity has increased annually by 26% over the past five years, compared with just 4% average growth in capacity in OECD countries.
According to the World Energy Council, interest in waste-to-energy technologies is growing, with the global market estimated to be worth $40 billion by 2023. From the outset, the goal of the Shenzhen East Waste-to-Energy Plant was to design a waste-to-energy plant that would set the benchmark for residents of Shenzhen and for the world.