12 Nov 2019
Driving effective data management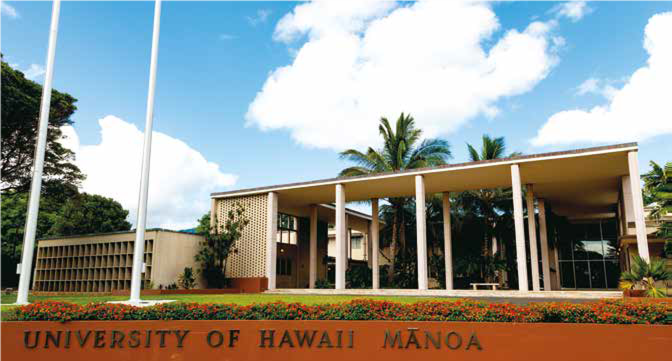 MICROGRIDS & DISTRIBUTED ENERGY RESOURCE INTEGRATION
Having set ambitious clean energy goals, the University of Hawai'i's Mānoa and West O'ahu campuses have implemented the Internet of Things to recalibrate and connect their multimillion-dollar research enterprise that is housed in over 300 buildings across 200 acres of campus. The challenge facing the University in terms of their target was that their existing energy generation infrastructure at the time produced only 5 GWh yet more than 200 GWh was consumed across their entire campus in 2017.
After the utility upgraded all their analogue meters to digital utility-grade meters, it became possible to embark on a project to create a data-driven system that would enable them to analyse the full extent of their energy usage in order to guide the rollout of new renewable energy generating systems and energy efficiency upgrade projects.
An essential ingredient in their strategic energy management system was to first get control of their data. "You cannot manage what you cannot measure," says Miles Topping of the University's Office of Energy Management (OEM). Therefore, their first step was to create a system that would enable them to have multi-campus energy visibility.
With nearly $1 million in funding support from Elemental Excelerator, a Hawai'i-based start-up—they cofund and co-develop projects that improve infrastructure sustainably to enhance communities—the OEM selected IoT networking company Blue Pillar as the strategic partner to provide the university with realtime energy data needed from its energy assets.
Blue Pillar's Aurora IoT platform has contributed to reducing time spent doing manual meter readings, as well as ensuring consistently accurate real-time readings. The project was completed in just over two years before being formally launched at the start of 2019, having already helped to advance the University's strategic sustainability priorities.
In terms of energy reduction, a core focus of the project has been on the real-time collection and analysis of data from more than 30 of the most energy-intensive buildings across the university's 10 campuses, all of which are integrated with utility substation monitoring, 75 multibuilding electric sub-meters, 30 building automation systems (sourced from multiple manufacturers) and 44 solar photovoltaic (PV) systems and solar inverters.
The extensive upgrades have enabled them to progress from outdated analogue equipment to a cuttingedge infrastructure that has made it possible to monitor the University's total energy usage in real-time. It also provided them with the data needed to effectively upgrade their existing facilities and install new energy generators that would put the University on track to produce as much energy as it consumed by 2035, as mandated by the State of Hawai'i.
The digitalisation of the University's energy data into a central data repository (even when it resides offsite in the cloud within siloed, third party applications) has enabled the OEM to dramatically reduce the time and labour costs required to manually collect and input data. This has made it possible for the OEM to analyse accurate, real-time readings and to utilise the power quality and analytics automated reporting feature to optimise their current and future energy usage and cost savings strategies.
The network was also designed to provide a system that was scalable with all new and future energy initiatives in order to ensure the effective collection of all energy data from the institution's 2,600 new data points every second. An additional challenge was the fact that the platform had to interface with a broad range of assets, the majority of which did not interact or communicate with one another as they had originally been supplied and installed by independent vendors.
The cumulative savings have already enabled the University to embark on a range of future energy integration initiatives that will play a role in the institution hitting its net zero target by 2035. These initiatives will range from LED lighting conversions for exterior building facades, to additional metering and battery storage projects that will enable all five campuses to tap into the store of renewable energy. It is estimated that these measures on O'ahu alone will reduce the need for fossil fuel on four community colleges by between 70% to 98%, while the University could save up to $100 million in terms of system maintenance and upgrades as a result of the renewable capacity that is now available.
The deployment of data-gathering new technology has illustrated the value of acquiring accurate and fast energy consumption data in order to enable organisations to manage their operations and costs more effectively. The availability of such data will also enable intelligent decision-making around energy efficiency investments, from renovations of old buildings to the upgrades of external facilities, including sports fields. Retrofitting existing infrastructure will be better informed to enable the architects to develop a more efficient and robust building design, while it has been estimated that replacing the halogen technology around sports fields such as those at the University of Hawai'i could yield savings for organisations of around 70% of the current floodlight usage
The University's ground-breaking and wide-ranging cross-campus energy systems upgrades highlighted the importance of collecting fast, accurate and effective data to help direct an organisation's clean energy drive. Their use of the Internet of Things is already playing a key role in enabling them to fast track their progress by bringing in state-of-the-art equipment and processes as they look to create a massive boost in their renewable energy generation.
The success of the project was reliant on the decision to create a secure, central data repository with real-time updates for facility-based information, which is indicative of the current best practice thinking in the industry. This database and the real-time energy usage updates it produced provided the OEM with the analytics required to upgrade their various campuses and manage their operating costs in the most effective way possible.
Creating a central database with real-time energy usage updates provided the OEM with the analytics required to upgrade their various campuses and manage their operating costs in the most effective way possible.
Having access to real-time energy usage data offered immediate evidence of the actual savings being created by each set of upgrades, which helped to further guide and inform the OEM and their strategic partner in the design of a truly scalable system on which all of the University's future energy initiatives can be built.