22 Jan 2021
Making the most of Hawaii's sun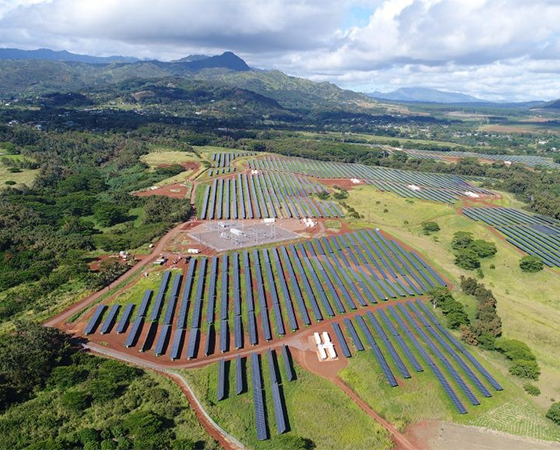 RENEWABLE ENERGY GENERATION INNOVATION & OPTIMISATION
The Lawai Solar project on Kauai island in Hawaii is playing a key role in transitioning the Pacific island territory away from fossil fuels and towards an all renewable future.
Hawaii, like islands all around the world, traditionally relied on costly imported hydrocarbon fuels and coal for its energy requirements. With the goal to reduce its dependence on such fossil fuels for both environmental and economic reasons, Hawaii became the first US state back in 2015 to commit to a 100% renewable goal to be achieved by 2045. Solar photovoltaic (PV) plants are key in this transition, but as with other weather-dependent renewables such as wind, they bring new demands in terms of grid stability. Solar also exacerbates the need for so-called 'peaker plants', i.e. electricity generation that can be brought online at short notice to handle spikes in demand for power on the grid.
The Lawai Solar project is one of the more recent solar initiatives to come online in Hawaii. AES Corporation, the owner, got the go ahead with the approval of the Hawaii Public Utilities Commission in July 2017 of a 25-year power purchase agreement with the island's utility, Kauai Island Utility Cooperative (KIUC). Advised by a cross-practice team of lawyers from Akin Gump Strauss Hauer & Feld LLP led by global project finance partners Gregory Lavigne and Matthew Nesburn, AES spent well over two years planning the facility, which was brought into service in April 2019. Lavigne reflected that the financings were a real milestone for AES, Hawaii and the renewable energy sector overall, as it proved that solar and storage technologies could fully replace conventional power solutions and were able to be financed by the project finance and tax equity marketplaces.
The power plant spans about 194 acres (79 hectares) of land leased from Alexander & Baldwin (McBryde Sugar Co.) in the Lawai area near the southern tip of Kauai and is considered to be particularly unique. It was engineered to solve not only the environmental and economic concerns endemic in Hawaii's power mix but also to mitigate the grid stability and peak power demand issues that normally arise with renewables.
The facility comprises a 28MW DC solar PV system with a 100MWh, five-hour duration battery energy storage system so that it can operate as both a consistent provider of clean energy and a peaker plant. The solar panels are from SunPower along with its Oasis Power Plant platform to maximise the generation output, while the storage is comprised of 13,000 Samsung SDI lithium-ion battery modules.
The system delivers approximately 11% of Kauai's power and with its contribution makes the island more than 50% powered by renewables.
At the time of its entry into commercial operation, Lawai Solar was believed by KIUC to be the largest solar plus storage peaker power plant in the world. Another notable aspect of the project was the financing: the attorneys at Akin Gump helped AES navigate the variety of unique risk management and new technology issues that came up with the equity investors and lenders, which traditionally require significant assurance that the new technology can be proven out and is financeable. Notwithstanding the novelty of the project, counsel was able to help AES close financing using typical renewable energy project finance structures, including a term debt financing and a tax equity partnership investment.
Another noteworthy point is that sheep are being used to control vegetation growth around the facility, demonstrating the complementary role of energy and agriculture. If left unmanaged, the non-native Guinea grass that surrounds the site could reach heights taller than the solar array. Simply adding storage to the utility grid helps to solve some of the challenges that were being faced on Kauai, but batteries cannot dispatch energy fully during the day when they need to be charging. KIUC needed a renewable energy system that would provide power when the solar panels were dormant and demand was peaking.
AES designed the DC-coupled system from the ground up to fully integrate solar and storage as a single power plant. It responds to three specific scenarios: First, it allows solar generation to be supplied to the grid while charging the battery system, with the allocation adjustable dynamically as demand changes. Second, it dispatches power stored in the battery storage system to the grid during the morning and evening peak demand periods.
Third, it can dispatch solar and battery power simultaneously to respond to spikes in demand or to black start the grid after a system-wide outage. This DC-coupled solution makes solar a dispatchable and controllable resource and is more efficient than a traditional AC coupled system. Moreover, the DC-coupled architecture saves on redundant equipment such as inverters and transformers while increasing the overall roundtrip efficiency compared to an AC coupled system. With the inclusion of battery storage, 40% of Kauai's evening peak load can now be met with dispatchable solar. KIUC has reported that in 2019 alone, the company achieved a saving of $3.8 million from its utility-scale solar and battery resources versus the average cost of diesel. The battery storage has helped to achieve a 50% increase in system reliability over the past 10 years.
This model has proved a template for subsequent solar plus storage projects. Among these is another project developed by AES, the 19.3MW solar plus 70MWh battery storage facility currently under construction on leased land within the Pacific Missile Range Facility Barking Sands Naval Base on Kauai island.
With its 64MW of utility-scale solar and 32MW of rooftop PV and other renewables, 90% or more of Kauai's daytime energy needs are now met by renewable sources on most days. KIUC is routinely running on 100% renewables for five hours or more on sunny days.
Access the full digital magazine