22 Jan 2021
Kadyrinskaya hydropower plant modernisation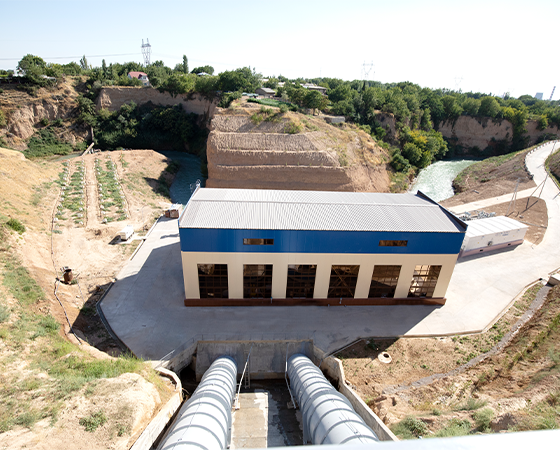 RENEWABLE ENERGY GENERATION INNOVATION & OPTIMISATION
Located in the Tashkent region, Uzbekistan, the Kadyrinskaya Hydropower Plant (Kadyrinskaya HPP-3) forms part of the Chirchik-Bozsuv cascade of 19 hydropower plants. The total capacity of the run of river hydropower plants is 1,275.4MW. It was originally commissioned with a capacity of 13.2MW and during 85 years of operation, four of its hydroelectric units declined in efficiency and required major repair.
Following a Presidential Decree in May 2017, the modernisation project was launched in December 2017 with the following objectives: Bring the plant's level of operations up to a modern standard; improve the reliability and safety of operations; increase electricity generation; automate more processes; and extend the life of equipment. In the third quarter of this year, HPPs have implemented the national and international standard ISO:50001 'Energy Efficiency'. In the future, the issue of introducing safety and health regulation standards is being considered.
During the three-year project – concluding in 2020 – a number of sequential activities were carried out, including construction and installation work; assembly and installation of technical equipment; constructing a complete set of spare parts; and landscaping of the site and nearby territory. The project included construction of a new hydroelectric power station building with two units. Other items constructed included a water intake, two pressure pipelines and a discharge channel which was connected to the existing diversion canal. To maximise the life-cycle of a new plant, the selection of equipment to be installed is considered prior to the start of modernisation by arranging and conducting a technical audit of equipment at HPPs. These projects, carried out by contractors on a turnkey basis, are not considered by HPPs but recommendations are given for inclusion in the contract.
The main hydraulic equipment was produced by Dongfang Electric International Corporation, the Chinese state-owned manufacturer of power generating equipment, with assembly and installation executed by highly qualified international and Uzbek specialists.
Design work streams executed by specialists from JSC Hydroproject, technical equipment produced and delivered by JSC Suvsanoatmash and JSC Uzbekgidroenergostroy assisted with construction of individual elements.
The modernisation was done in cooperation with a leading Chinese hydropower enterprise and a team of Chinese specialists. The project cost was $27.6 million and capital was provided through a $9.8 million Eximbank loan from the People's Republic of China and $17.8 million of Uzbekistan's own funds.
Work was completed on schedule in July 2020, despite the ongoing coronavirus pandemic. During the last months of the project, employees and contractors worked around the clock under special quarantine conditions. By project end, the plant had been fully modernised and repaired, capacity increased from 13.2MW to 15.34MW and the average annual power generation was increased from 112 million kWh to 124.4 million kWh. Successful completion on time was a great step forward in making effective use of Uzbekistan's hydropower potential and forming a unified system for managing water and energy resources.
This project is one of several ongoing investment projects to both construct new hydropower plants and modernise existing ones. It is part of Uzbekistan's ambitious national energy strategy seeking to generate a quarter of all electricity from renewable sources by 2030. The strategy aims for 3.8GW of hydro energy, 5GW of solar energy and up to 3GW of wind energy.
Each new or upgraded hydropower plant will help ensure uninterrupted energy supplies for citizens and businesses. This will lead to better working conditions, more stable jobs and greater wellness for citizens. The successful completion of the project was marked in a ceremony attended by foreign partners and representatives from the Kadyrinskaya HPP-3 plant and JSC Uzbekhydroenergo, Uzbekistan's state hydropower producer and developer.
Uzbekistan's overall 2030 energy strategy aims for increased installed/available generating capacity from 12.9GW to 29.3GW and increased electricity production from 63.6 billion kWh to 120.8 billion kWh. In line with the Nationally Determined Contribution under the UN Framework Convention on Climate Change, Uzbekistan is committed to policy goals to improve energy efficiency and increase the contribution of renewables to Uzbekistan's energy mix. The aim is to generate 25% of electricity from renewable sources of which 3.8GW is generated by hydropower.
Abdugani Sanginov, Chairman of the Board of Uzbekhydroenergo JSC, said: "The modernisation of the Kadyrinskaya HPP-3 plant is a great step forward in making effective use of Uzbekistan's hydropower potential and forming a unified system for managing water and energy resources. Progress in Uzbekistan's hydropower industry will increase energy efficiency and the contribution of renewable energy to the country's energy balance."
Access the full digital magazine