22 Jan 2021
Future-proofing through cloud technology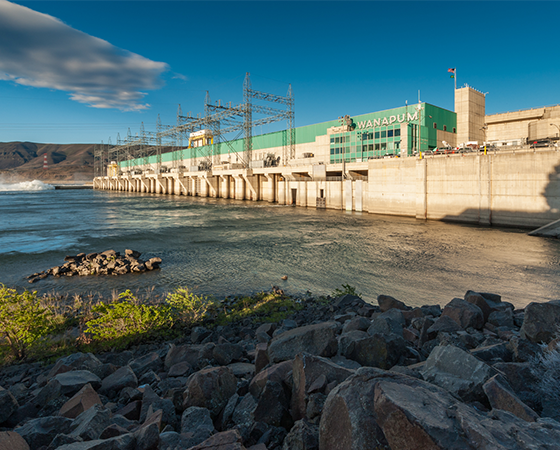 TECHNOLOGY
A 100% public hydropower utility, Grant County Public Utility District is located in central Washington State, bordering the Columbia River where the utility runs two large hydropower generation facilities.
With 42,000 customers, the public utility district is undergoing a technology transformation and business overhaul. In the late 1940s and early 1950s, Grant PUD built two large hydropower dams on the Columbia River. These plants now generate up to 2,200MW of peak load power, which provide energy resources for its Grant County customers and also wholesale power customers throughout the Northwest, with residential, agricultural and light commercial customers. Grant PUD also serves many data centres from large multinational companies, using the cheaper power resources in Grant County.
The clean power producing utility is on a five-year technology transformation journey that will overhaul every core system in the organisation – including the utility's customer information and meter data management systems – replacing legacy platforms with modern solutions that will streamline operations and remove friction in the flow of information needed by decision makers.
According to Derin Bluhm, Chief Technology Officer at Grant PUD, many of the utility's systems were outdated and in some cases manual, operating without a work management system. "Our field crews still relied on a fax machine to give crews work tickets… they would have to drive back to the office and pick up the fax and then go out and do the work. There were no metrics to direct proper planning and a legacy design system was used for the electrical and fibre services Grant PUD provides to its customers."
Grant PUD aims to automate the collection of field data for analytics and planning, ensuring efficient network demand management, load balancing and anomaly detection in the field. Bluhm highlighted: "[We recognised] the need to come up to speed with modern technology and achieve all the benefits and value that technology has to offer. In many cases, key tribal knowledge of the organisation is retiring."
Grant PUD has chosen a cloud-first approach, which is designed to reduce the resource demand of rolling out and supporting on premises technology systems – an essential strategic consideration for resource limited utilities. Instead of having to assign resources to long upgrade projects or new
implementations, and then support those same systems, Grant PUD is now turning to SaaS solutions from Oracle and others to outsource the technology support headache.
More importantly, "Grant PUD's SaaS-first approach ensures that those big-step change deployments are replaced with a steady stream of patches and feature enhancements that enable the utility to evolve both the company and value we give our customers in a manageable way," shared Bluhm. Project partners and stakeholders include: Oracle as the Product Vendor and provider of key professional services for implementation on the vendor side; TMG Consulting as the System Integrator, providing project management, off-shore development and testing support, Intoolect as a key partner for parallel billing validation testing to ensure the new system properly produces accurate billing data in comparison to the legacy system, and MakSolutions
as the Data Conversion partner.
According to Derin Bluhm: "At Grant PUD, we talk about technology transformation as a team sport. What matters is that we improve the capabilities with each iteration and we continually bring the organisation forward. Transformation is both challenging and fun." The $7 million project was inspired when Grant PUD deployed Oracle CC&B as its customer information system (CIS) back in 2014/2015. Due to the complexity of work and limited resources, the solution was not updated. The utility faced the requirement to upgrade as their outdated version was reaching the end of support. Further, the PUD completed its advanced meter rollout in 2019 but did not have a system in place to manage or mine the volume of meter data, limiting the overall value of the advanced meter deployment.
Together with their partners and stakeholder support, the utility has pursued an aggressive schedule with the goal of completing the project from contract signing in May 2019 to deployment in November 2020. The utility successfully met the November rollout date as all members of the team drove to complete testing, address bugs, finalise/improve integrations and train staff, etc.
After successfully meeting its go-live date with no critical bugs, Enterprise Change Management continues to ensure adoption of the new way of working with field crews and customer service.
PROJECT IMPLEMENTATION
Bluhm explained that throughout the process of transformation, organisational silos have been broken down. The steep learning curve has encouraged information sharing and adoption of best practices as new technology is adopted. The process has been spurred on by a supportive team and engaged stakeholders. The executive leadership has been supportive and the PUD's board of elected Commissioners bought into the transformation and funded it. Well-organised change management has resulted in people remaining enthusiastic, being trained, and understanding the benefits of new ways of working.
Explaining the benefits to the end users is vital, as they are the ones dealing with this new way of working. It is critical to ensure they receive the benefits that are promised at the start of the project. "It's about demonstrating that the new process will make their life simpler, reduce the overall complexity and provide them with the ability to better serve customers by providing real time data that they didn't have before," Bluhm noted.
BENEFITS OF TRANSFORMATION
The transformation enables the PUD to continue providing long term low rates for customers by providing operational efficiency and faster response times for outages or new service requests. The new cloud-based customer service platform allows a faster turnaround on work for turning on and turning off power. It provides near real-time information on power utilisation and enables analytics to inform customers how to better manage their power usage and reduce their costs overall.
The new system will work well with Grant PUD's Incident Management Planning, allowing quick reaction time to outages. The utility can now help customers minimise their overall power costs, which is important to communities who value every dollar. The benefits have also been obvious during the pandemic with the shutdown of physical facilities.
The utility has been able to de-risk operations by leveraging cloud-based services, which allow all features and capabilities to be accessible remotely. Ultimately, the utility has been able to offload day-to-day platform operations, eliminating bottlenecks and improving overall system availability. As a SaaS product, continuously improved capabilities and updates will be available without the monolithic effort required in the past.
Access the full digital magazine