22 Jan 2021
Enabling a smarter network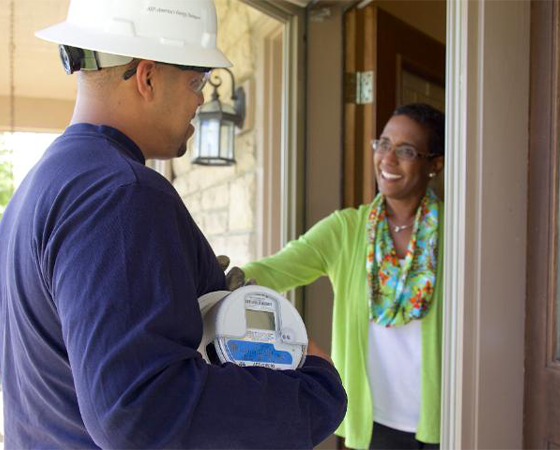 BILLING & CUSTOMER ENGAGEMENT
American Electric Power company AEP Ohio has embraced the smart energy revolution as it nears the successful completion of a second phase of its smart meter rollout. The AEP Ohio Phase 2 Smart Grid project began in the summer of 2017, following the successful rollout of 132,000 smart meters in select areas of central Ohio in Phase 1.
The second leg of the project, implemented after receiving approval from the Public Utilities Commission of Ohio (PUCO), included the installation of about 900,000 smart meters. Distribution Automation Circuit Reconfiguration (DACR) on 250 circuits, and Volt/Var Optimisation (VVO) on 160 circuits.
Among the many benefits these technologies provide, improvements are being realised in customer satisfaction, safety measures, environmental impacts and services for companies and small businesses.
AEP Ohio was able to further interact and engage with customers throughout the AMI meter installation process. The estimated timeline for the rollout of the 900,000 meters was four years. The installation of the meters started in August 2017 and as of October 2020, the AMI installations are considered operationally complete.
The installation of AMI meters provides customers with timely access to their electricity usage, eliminates estimated bills, and assists with faster restoration efforts. Customers are also able to access their energy usage online, as well as energy reports that work in tandem with their AMI meter.
These services allow the customer to become more educated on their energy usage and make more informed decisions on how to save both money and energy, month by month. Based on the feedback received from customers, most are generally pleased with the tools provided.
The project detailed the installation of DACR on 250 circuits throughout Ohio over a six-year timeframe. The selection of the circuits prioritises those which historically have lower performance ratings to maximise customer benefits. Since the beginning of this project, customers who are on a circuit with DACR installed have experienced minimal time without power during an outage. This may be as small as a few moments while power is rerouted from another circuit to provide the customer power while the issue impacting their circuit is resolved.
Additionally, this technology allows crews to restore power faster so customers impacted during outages also experience a reduction in the total time they are without power.
The VVO installations on circuits were also scheduled on the project timeline for completion over approximately six years. As of November 2020, 155 of the 160 selected circuits have VVO installed and enabled. Customers on a circuit with VVO installed benefit from the adjustment of voltage to improve energy efficiency and minimise energy loss. This reduces the amount of electricity used by household appliances to save an average of 3-4% on their monthly bill.
Important to the success of the project was the customer communications and outreach.
Customers received communications before, during and after AMI installations. This ensured that AEP Ohio were able to provide a positive customer experience and educate them on the benefits of their AMI meter with features such as the energy dashboard. As DACR and VVO installations continue, customer education and outreach will consistently focus on those technologies. Overall, customer response to the project has been positive and those impacted are witnessing firsthand the numerous benefits these technologies provide, ultimately creating an enhanced customer experience.
AEP Ohio has used social media, outreach events, email and direct mail to inform and educate customers about the technology.
This engagement has been well received and, throughout 2020, these outreach efforts have been transferred to digital platforms to ensure customers receive the information needed to remain educated and up-to-date on recent installations.
In addition to customer communications, monthly updates to a group of collaborative is an important piece of this project. Through a monthly newsletter as well as quarterly meetings, these stakeholders and the larger project teams are able to review work in the pipeline and provide updates on the project. These meetings also serve as a platform for the group of stakeholders to provide their feedback on the ongoing project.
This project has not been free of challenges. AEP Ohio, like any major company, expects contractors to be in synch with its own values, and safety practices. There were a few roadblocks at the beginning of the smart meter work that caused a pause in the project as situations were evaluated and rectified.
A pause also occurred as the pandemic took hold, and AEP Ohio worked to make sure all safety related measures were buttoned up before proceeding. Additionally, the aggressive schedule to install the new technologies did not always align with the 33 cross-functional teams that support the efforts to make it all happen. Being one of the largest smart grid projects in the country, thoughtful scheduling needed to occur to ensure alignment among the teams, as well as the consultants and contractors that assisted in the planning and installation of all the equipment.
As 2021 approaches, AMI installations will wrap up one by one as installers tackle the hard-to reach homes and customers with varying issues preventing a timely installation. Crews will continue to work on installing DACR and VVO throughout the remainder of 2020, and for the next few years. Phase 3 of this plan is currently in front of the PUCO for consideration. It would allow AEP Ohio to install the remaining 470,000 smart meters for customers and continue installations of these new technologies on customer circuits.
Access the full digital magazine