22 Jan 2021
Driving digital-first thinking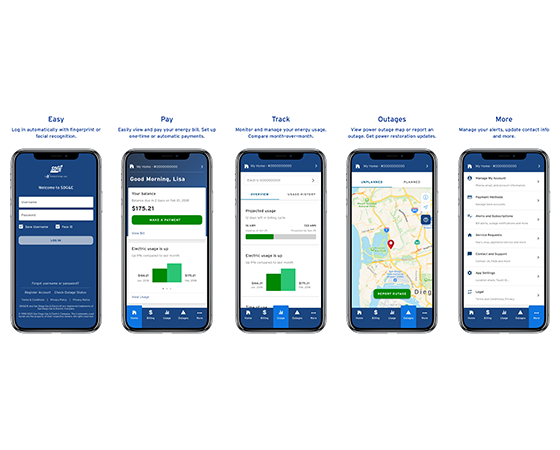 BILLING & CUSTOMER ENGAGEMENT
A North American-based, forward-thinking utility is taking ambitious steps to deliver an innovative digital experience to its 3.6 million customers. The San Diego Gas & Electric Company (SDG&E), a regulated public utility headquartered in San Diego, California, USA provides clean, safe and reliable energy to better the lives of the people it serves in San Diego and southern Orange counties.
SDG&E serves its customers through 1.4 million electric meters and 873,000 natural gas meters in the two counties, spanning 4,100 square miles.
In addressing the task to deliver a digital experience, an important element in the utility's strategy was the adoption of a mobile solution that provides a simple and personalised mobile customer experience. Adopting a customer first approach, the utility is replacing its legacy Customer Information System (CIS) and billing system and updating its native mobile app platform with an improved customer experience.
The project is a multi-year effort, replacing approximately 75% of the customer services systems and directly impacting 2,000+c employees. The utility required a native app platform that could support more robust features and functions to meet the longer-term needs of the CIS replacement, but wanted to deploy the system and some customer-facing improvements ahead of the full release effort. Thus, the Early Mobile Release (EMR) project was an interim project to prove out the technology components in production in advance of the full release.
The EMR project kicked off in September 2018 with an emphasis on enhancing the mobile app experience through the expansion of native functionality. The replacement of SDG&E's existing mobile application will roll out in stages – Early Mobile Release was deployed in January 2020; the next stage will launch in April 2021 – with EMR delivering a subset of high priority native self-service capabilities that improve ease of use and enhance the customer experience.
The project's early value comes from enabling native functionality, such as biometric login and geolocation for outage reporting, and supporting a 'test and learn' approach through the early deployment of the SAP Self-Service Accelerator (SSA) technology platform and new visual user interface designs. Initial project and native mobile apps for iOS and Android were successfully launched January 2020.
SDG&E partnered with Smart Energy Water and Accenture's Fjord Design Studio on the Early Mobile Release project using SAP's Self-Service Accelerator (SSA) and Customer Data Cloud applications.
SDG&E worked with vendor partners to develop their digital strategy and managed scope with a focus on key performance indicators and testing the new platform's ability to meet business outcomes. Smart Energy Water supported the product build and design delivery. Accenture and Fjord Design Studio led the customer research effort and collaborated with SDG&E and SEW on design co-innovation.
The EMR project was funded as a capital project through a regulatory filing with the California Public Utilities Commission.
Since the launch in January, there have been over 130,000 app downloads – 70% iOS, 30% Android – with an average of 60,000 active monthly users. Overall, customer feedback received from app users has been positive. App Store Ratings have dramatically improved to 4+ stars. The general customer sentiment focuses on the app's improved ease of use; customers feel it's easier to do business with SDG&E because of the new native mobile applications.
SDG&E has found leveraging vendor and product partnerships for project execution and digital strategy fullment and support is certainly a scalable model.
Notably, utilities should consider their core competencies and those of their vendor partners to pair strengths in project delivery. While use of out-of-the box functionality helps utilities establish or confirm a baseline of features and functions, it should be paired with planned project development for integrations to fill gaps and allow for unique use cases and/or utility specific programs or business outcomes to be met.
Roadmap co-innovation keeps teams focused on the present, but allows for future planning and encourages product growth.
Through this digital platform, SDG&E is innovating to meet business demands and better serve customers in the digital era.
Technology is always changing, and with this new app, SDG&E is now providing customers with an enhanced platform to increase self-service and improve customer experience in advance of their full digital release planned for 2021.
In a truly customer-centric approach, this project has the added advantage in that customers have the opportunity to familiarise themselves with the new platform and can influence its functionality through customer feedback. This process will lead to the continued enhancement and long-term optimisation of the utility's digital experiences and supporting systems.
Access the full digital magazine