22 Jan 2021
Deploying microgrids for humanitarian needs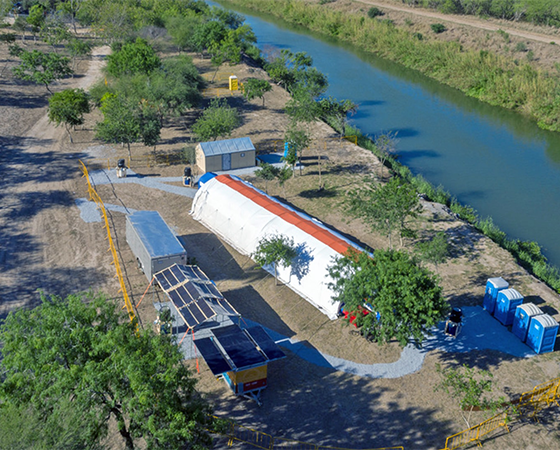 MICROGRIDS AND DISTRIBUTED ENERGY RESOURCES (DERS)
Just south of the US-Mexican border in Texas lies the city of Matamoros, Mexico. Home to over 500,000 Mexican citizens, Matamoros additionally hosts a migrant camp of 3,000 refugees. Most of the refugees are from Central America and Cuba and travelled all the way to Matamoros to seek asylum in America.
Living in close quarters with virtually no access to basic hygiene products or medical care, this community was at severe risk of a deadly COVID-19 outbreak spreading through the camp and claiming the lives of many. SimpliPhi Power, a US manufacturer of safe, cobalt-free lithium-ion energy storage systems, partnered with the non-profit organisation Footprint Project to supply and deliver a renewable energy microgrid field hospital for the Matamoros migrant camp to power the camp's first mobile medical ICU to treat COVID-19 patients.
In order to provide a properly functioning medical clinic, the team needed renewable energy with enough energy storage to power lights, ventilators and other essential medical equipment 24/7. SimpliPhi's 3.8kWh PHI batteries were part of a containerised mobile, solar and energy storage trailer that served as a primary power source for the popup ICU. The ICU provided 20 beds with both diagnostic and treatment ready medical equipment, including ventilators and an HVAC system to deliver temperature control for the two-tent clinic. Additionally, the microgrid provided critical power with clean air, instead of the toxic fumes from the exhaust generated by diesel or gas generators, which served to further exacerbate the respiratory condition of patients already struggling to fight off COVID-19 infections.
The mobile clean energy microgrid also supported significant savings for the Global Response Management (GRM) team, the NGO that is operating the facility and providing free medical care to the migrants. As first responders coordinating care, the solar + PHI storage allowed GRM to dedicate its resources to providing critical and quality medical care instead of deferring precious funding to monthly fuel costs averaging $2,000 that would have been necessary if the ICU was powered by a diesel generator. The system eliminated up to 9,072kg of carbon emissions per month; and provided enough power to support 20 hospital beds, an X-ray machine, heart monitors and lighting.
The refugee camp's remote location and limited access to reliable power and medical resources, plus the contagious nature of COVID-19 put the refugees of Matamoros in the middle of what could have been a disastrous situation. Besides focussing on providing power for direct medical care, the Footprint Project also built capacity at the camp by training staff and volunteers on how to operate and maintain the microgrid independently.
"COVID-19 knows no border, affecting all nationalities regardless of whether people live in a permanent dwelling or a tent," said SimpliPhi Power CEO Catherine Von Burg. "Renewable energy microgrids for humanitarian needs like the Matamoros migrant camp can play a critical role during this global pandemic, ensuring reliable, uninterrupted access to clean power, allowing medical teams to focus on treatment and medicine, not purchasing fuel over medical supplies." Given that COVID-19 affects the respiratory system, elimination of noxious fumes from diesel generators was also a significant benefit.
Will Heegaard, founder and director of Footprint Project, extended thanks to the Mexican government for supporting this critical clean-air microgrid and associated medical equipment for the camp. Beyond Matamoros, SimpliPhi Power and its partners are deploying portable and containerised microgrids in the United States and around the world as part of the COVID-19 emergency response effort to provide clean energy security to hospitals and clinics on
the frontlines battling the pandemic.
RESILIENCE AND PLANNING: HURRICANES AND TORNADOES
Two devastating EF3 tornadoes hit Nashville and Chattanooga in the first few months of 2020, just as the COVID-19 pandemic was starting to spread across the US. With many neighbourhoods and communities left without shelter or power, Footprint Project volunteers arrived with mobile clean power within 12 hours. In Nashville, two renewable energy and storage systems mounted on trailers, hitched behind two pickup trucks, provided emergency solar recharging for over 1,200 people and completely powered two community donation and distribution centres.
In Chattanooga, the renewable energy trailer was the only means of charging electronics in order to maintain communication, call for help, get up to date information, and deliver power to nearly 200 residents of the hardest hit neighbourhood, the Holly Hills Subdivision.
The Footprint Project partnered with local emergency management agencies, utilities, and members of the Burners without Borders to ensure the mobile renewable assets were placed in areas of high need for energy usage. Through a strong network of volunteers and partners, the Footprint Project was able to alleviate some of the hardship and dire consequences that result from widespread power outages and ensure that community members had access to energy, utilising the power of the sun and SimpliPhi batteries for around-the-clock rescue operations.
Access the full digital magazine