22 Jan 2021
Decentralised energy trading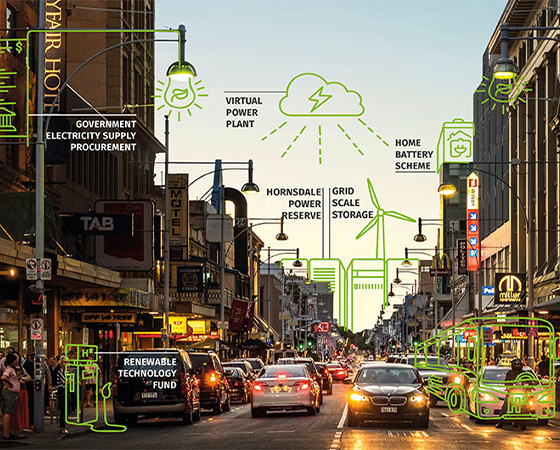 RENEWABLE ENERGY GENERATION INNOVATION & OPTIMISATION
Australia's energy sector faces specific challenges as it seeks to transition to a low carbon system. In addition to those common in many countries – including electricity shortages, widespread outages and ageing infrastructure – some additional climate-induced challenges have spurred the growth in frequency of destructive bushfires and more extreme storms.
The government of South Australia had to act quickly after a catastrophic 'once in 50 years' weather event resulted in a state-wide electricity blackout in 2016. The outcome was a range of projects to address urgent system security, reliability and price risks for energy customers, while also enabling increased renewable energy on the network.
In recent years, these projects have evolved into a complex programme of works spanning a range of interventions in the state's energy infrastructure to improve energy security and grid strength. Among these is a world-first 100MW storage battery, government electricity supply procurement, a renewable technology fund to catalyse private sector investment in new renewables, a grid-scale storage fund to address emerging network challenges through storage technologies, a home battery scheme promoting the uptake of residential battery storage and virtual power plant implementation.
With these initiatives comes a lot of complexity, which needs to be fed into future energy strategy and plans to more actively manage sector risks, whether these are associated with decreasing reliability of supply, increasing energy costs or perceptions about energy and carbon footprint. International engineering, design and advisory company Aurecon has been engaged on a number of these projects as specialist and technical adviser, providing a range of support including commercial advice, procurement strategy development, technical specification preparation and programme management.
Some of the key projects show how innovation and a user-centric design approach can lower emissions and exploit new technologies in the energy sector. The 100MW/129MWh Hornsdale Power Reserve battery at the Hornsdale Wind Farm is unique not only because it is the world's largest lithium-ion battery system or because it was conceived and constructed in record-breaking time: The system addresses specific technical and market needs in South Australia's network, providing a targeted contribution to the state's objective of ensuring reliable, affordable and clean power for its consumers.
Aurecon advised the government of South Australia throughout all phases of the project from definition through to final testing. This included assessment and stakeholder engagement on how the battery's unique capabilities could best be deployed to meet key government objectives and the development of the formal operating protocol for the facility. In the wake of the Hornsdale implementation, the Australian Energy Market Operator has reported unprecedented growth in energy storage registration and connection applications. The project has built confidence in the ability of such large storage schemes to be successfully integrated into the electricity network and markets. After one year in operation, Aurecon analysed the performance of Hornsdale Power Reserve and highlighted that the use of similar fast response systems could significantly improve the reliability, affordability and sustainability of energy across Australia.
A new report released in February 2020 further demonstrated the market benefit of Hornsdale Power Reserve to the National Electricity Market in reducing the cost of frequency ancillary services by approximately Au$116 million (US$85 million) in 2019. South Australia's economy is underpinned by access to affordable and reliable energy. Local businesses and industries rely on power for their viability and households for their daily lives, health and comfort. Pressures were being felt acutely around the state as energy costs were increasing to unsustainable levels.
The Renewable Technology Fund and Grid Scale Storage Fund promote private sector innovation and competition in delivering the required solutions for the energy network. The Renewable Technology Fund has committed funding to projects that can increase the supply of renewable energy in South Australia by improving the stable integration of renewables into the grid and fostering market competition. The Grid Scale Storage Fund is providing targeted contributions to the emerging system security and intermittency challenges that are arising as the energy transition progresses with growing penetration of variable utility and distributed renewables.
Energy no longer consistently flows in one direction from large centralised generators to consumers. Instead, 'prosumers' can now produce, store, consume and export their own electricity using rooftop solar photovoltaic and battery systems, collectively functioning as a virtual power plant. The opportunities are enormous but there are still risks. Aurecon worked with the South Australian government to develop a set of minimum technical requirements for batteries eligible for its Home Battery Scheme subsidy. Among these is the requirement for all eligible batteries to be virtual power plant-capable, paving the way for a more distributed, modern energy grid.
In this process, the challenge for Aurecon was to find a bridge between a range of competing interests and to translate the specialised languages of energy technologies, electricity grid connection protocols and operations, state strategy and policy considerations and safety and product accreditation agencies – as well as the imperative to protect consumers and provide them with value for money.
The government of South Australia aims to protect the people and the state of South Australia. Aurecon is proud to have contributed to its energy strategy through its advisory and technical expertise to achieve the delivery of more generating capacity, greater competition, increased stewardship of assets, more renewable energy, pumped hydro and battery storage, and more job opportunities for South Australians.
Access the full digital magazine