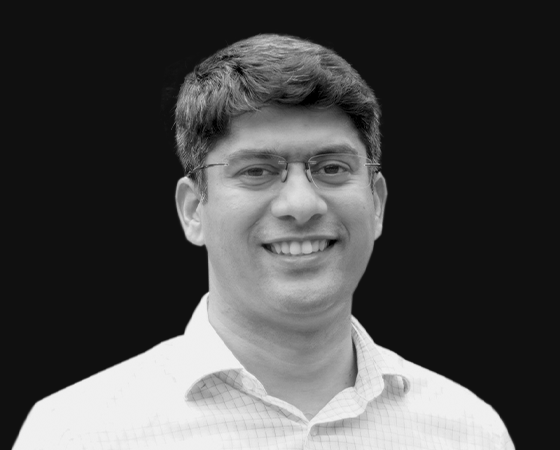 Sujay Malve studied mechanical engineering at university in India and did his master's in industrial engineering in the United States before venturing into the energy industry. Sujay completed his MBA before striking out and co-founded microgrid and engineering services firm Canopy Power in 2016.
WHAT'S THE BEST BOOK YOU'VE READ THIS YEAR?
This year I read several non-fiction books. One standout one is On Fire - The (Burning) Case for a Green New Deal by Naomi Klein.
WHAT DO YOU THINK MAKES A SUCCESSFUL LEADER?
A successful leader is someone who can provide and communicate a vision and execute it. Dr Abdul Kalam, a former president of India (2007-2012) is an example to me. He was a scientist coming from a very humble background in rural India and became the person who realised India's position in space technology. He helped take the country from nowhere to a very respectable position. Nowadays, India is a very reputable country when it comes to space technology. This was a dream of the country of a billion people, but you needed someone like Dr Kalam to take that vision and execute it over decades. In my opinion, he was a true leader.
WHEN MEETING OTHER LEADERS, WHAT DO YOU ASK THEM?
I'm always curious around what other leaders are thinking to be the next thing in their business or community. Because I think a leader should have a vision – a vision in my opinion, often comes from imagination – I truly believe that imagination is more important than knowledge. Knowledge is critical but there are multiple different ways to acquire knowledge. The same goes for skills development but before all of that, you need imagination. It is the job of the leader to establish the vision, based on your background, education and experience.
So when I ask someone what they are imagining, the answer gives me a deep understanding of the person. I have seen that those I admire are successful leaders in their industry, or politics or education, and these people always have a concept, if not more than one. But there's always one concept that is kind of a foundation of their existence.
WHAT ARE YOUR GREATEST STRENGHTS?
I can seek out the right people to help me execute a vision. When I co-founded Canopy Power four years ago, some of the people I hired did not match the exact profiles for the roles. However, many of them succeeded in their roles because their personal attributes allowed them to excel. My focus on personal potential has helped me immensely. It has allowed me to work with a lot of smart people that might not have been ideal candidates on paper but in reality, they were amazing. The right recruitment is crucial to execute your vision.
You need people whose beliefs resonate with your inner vision and who have the passion to take it forward. To establish that, I always try to recruit someone smarter than me. That way you can move the bar up every time. To do this, you require emotional intelligence and self-awareness of your skills and the skills needed in the team.
I was taught very early in my career that the goal should be to design processes and train others in such a way that my job becomes obsolete over time. This might sound contradictory but if you want to grow, you need to outgrow your job. This explains why it is important for me to always bring onboard people who I feel are smarter or have significantly better skills than me or other team members.
WHAT ARE YOUR AND YOUR TEAM'S GREATEST BLIND SPOTS AND HOW ARE YOU IMPROVING THESE?
Being in a new industry focused on microgrids in Southeast Asia, there are so many variables which can easily become blind spots. In the past four years, my team has learned a lot through mistakes. We accepted that there will always be unknown risks in whatever we do.
For example, we built renewable energy microgrids in remote places where our customers are dependent on diesel because they don't have access to the grid. When we go there to integrate renewables, small things like logistics can create a huge risk or blind spot. For example, taking the last mile by boat can present a myriad of challenges if a well-thought-out plan isn't in place. The trick is to handle the challenges as they come and avoid getting hit by them again.
WHAT TIPS DO YOU HAVE FOR KEEPING A TEAM MOTIVATED?
Challenges are often new and can't always be predicted. Consequently, things can change drastically and fast, which can harm you and your team. I allow myself and my team to fail and fail fast to learn the positives – this creates a safe and innovative environment to try new things. But if you put a stigma on failure, people hesitate to try new things. Make allowances to fail, and fail fast.
WHAT'S THE BIGGEST RISK YOU'VE EVER TAKEN?
Starting Canopy Power four years ago was the biggest risk I've taken so far.
I was the head of business development for Asia Pacific at REC Solar, a very good company with a very good team. It was a comfortable position. But at that time, I saw an opportunity in the microgrids segment and decided to venture into this space. Immediately after making this decision, everything changed.
I never felt like I was taking a risk. I always thought my previous experience of more than a decade in the industry, my education, my contacts, and my industry network would reduce any risk that may come into play.
WHICH OF YOUR LEADERSHIP SKILLS WAS THE MOST DIFFICULT TO DEVELOP?
Changing my mindset from working independently to managing a team. During my first years in management, I needed time to build self-confidence and to delegate – not micromanage! – and take on team failure.
I learned this from working under different leadership styles and approaches for several years. For example, today I would hire college graduates to join the team in our technology department and feel comfortable in giving them large tasks and responsibility. I'm not saying I am setting them up to fail but rather
I see it as giving them responsibility with sufficient tools and training to learn and excel. Allowing yourself and your team to fail is the key founding principle of delegating. After a failure, you need to learn together. Although this process may take time, it builds self-confidence. And confidence in your team, colleagues, suppliers, and even customers.
WHAT'S THE MOST IMPORTANT LEADERSHIP LESSON YOU'VE LEARNED AND HOW HAS IT PROVEN INVALUABLE?
It is critical to bring to the table a vision and a plan to execute that vision. This is something I learned early on working in management consulting. Having a vision without execution is useless. And without vision, you end up burning resources with no outcomes.
WHAT INDUSTRY CHALLENGE KEEPS YOU AWAKE AT NIGHT?
Working in the renewable energy sector, our focus is on helping our customers with their energy transition. The gap between understanding and the ability or the intention to transition is something that keeps our team 'awake at night'. For example, people understand the impacts of climate change; however, asking them to make real-life changes to their day-to-day to help mitigate these impacts is a real challenge.
Everybody is worried about the future but people are more worried about putting food on the table or what the next quarter holds. When we approach our customers, we educate them on the personal benefit first and then follow on with a greater benefit, such as environmental benefits.
This lack of awareness or inertia in society is huge. I feel that sometimes there is a general lack of courage to take a step forward. Eventually, something is going to happen. It keeps me awake that the speed at which we are moving is not what it should be. I don't want to wake up someday and realise that it's too late.
WHAT ROLE DO YOU SEE YOU AND YOUR TEAM PLAYING IN THE ECONOMIC RECOVERY OF THE 2020 GLOBAL PANDEMIC?
We have a clear role to play. During the pandemic, people have realised that sustainability is critical and many organisations have started to strategise with this in mind. I know of organisations that had a five-year plan, and in year four or five years down the line, they were planning to integrate renewables into their strategy/business model. The same companies are looking at it today because somewhere people are realising that personally, or professionally, or in their organisation, they are in one way or another responsible for this.
Earlier I mentioned people having a lack of courage. It's interesting to see that something such as COVID-19 has pushed people towards (self-)sustainability quicker. While I hope we never face this type of situation again, this new sense of urgency is a silver lining.
Our organisation is committed to help people make the best decisions on their energy transition journey by identifying a sustainable energy source and providing the supporting technology. We are also providing financing because our customers who were once cash-flush and looking to invest, have had to reinvest into their own businesses to keep their primary business afloat during the past few months. At the same time, we work with people and organisations to ensure they are making an informed decision; and we educate them on the immediate benefits – reducing costs, while doing good to the environment.
WHEN WE TALK ABOUT ARTIFICIAL INTELLIGENCE (AI) EVOLUTION, THE COMPLEXITIES AND INTRICACIES, WHAT ARE YOUR THOUGHTS AND FEELINGS AROUND THIS AND HOW IT WILL CHANGE THE SHAPE OF THE POWER AND ENERGY SECTOR?
AI and machine learning are going to play a big role in the power sector, and others. It's going to hugely benefit O&M of microgrids that are largely installed in remote areas – minimising cost to the company and cost to the community as problems can be detected and resolved before they occur.
As many of our projects are in remote locations, we have developed a management platform called Hornbill to optimise project operation and maintenance. Using artificial intelligence and machine learning can help you to detect faults before they fail. Minimising the cost means more customers are going to adopt this solution. Coming back to helping people to take the leap towards energy transition, I feel that AI is going to play a positive role.
Access the full digital magazine