22 Jan 2021
SAURABH KUMAR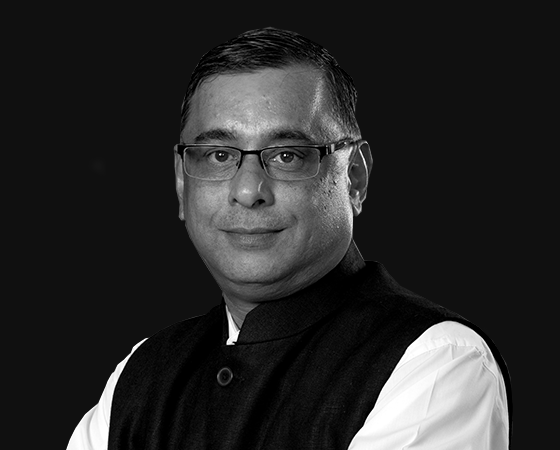 Saurabh Kumar is an internationally recognised authority on the design and implementation of scalable, replicable and impactful business models for promoting energy efficiency across sectors. Under his leadership, EESL, an energy service company of the Government of India, has implemented the globally-lauded Unnat Jyoti by Affordable LEDs for All (UJALA) programme and Street Light National Programme (SLNP).
WHAT'S THE BEST BOOK YOU'VE READ THIS YEAR?
I haven't been able to do a lot of reading in the last months but one book I cherish, by Dan Ariely, is called Predictably Irrational. I always thought rationality was the most important element of any decision I made. This book changed that completely. It explains how the human mind works in such a way that we make irrational decisions while believing they are rational.This idea opened me up as a person. Not everything you do is rational; you need to look at things from a distance and then look again. This is the learning I have benefitted from most, and I continue to benefit from it. I can recommend this book to everyone because it will open up everyone's perspective.
WHAT DO YOU THINK MAKES A SUCCESSFUL LEADER?
Every leader should possess sincerity as a quality. Taking the first step instead of letting others do so is the second quality. Thirdly, I would say you need to stand by your decisions as a leader. If you are leading a group, try to give them the kind of confidence that if anything good happens, it was the whole team who made that happen. If anything doesn't go to plan, stand behind them as a leader to help take corrective measures. Having worked in a bureaucratic system where in a high position, people presume that automatically it means leadership. For me, that has never been the case. You have to provide leadership to people, your peers and even people who are ready to move on.
WHEN MEETING OTHER LEADERS, WHAT DO YOU ASK THEM?
I would ask them: What is the one situation that you wanted to run away from? That, to me, is the starting point for every leader.
I would never run away from a leadership position. Running away means that you no longer have anything to offer or are too afraid to own up to your mistakes. All human beings will make mistakes at work! Another big trait of a leader is to not only focus on the good things but also be someone who can accept honest mistakes and be willing to take remedial steps so that these mistakes won't reoccur.
WHAT ARE YOUR GREATEST STRENGHTS?
I can keep a distinction between my personal and professional life. When I say personal and professional life, I don't mean the difference between my family and the office. I mean, that I might completely disagree with someone on a professional point but then personally, in office, we are firstly colleagues. I don't let one professional disagreement influence this. Secondly, I have no problems with accepting the fact that I made a mistake. I have done this plenty of times in this organisation, but also before, even to the extent of apologising to my colleagues for something that I should have done. The third thing is bringing the team together to focus on one common goal – this can be attributed to our growth in coming years.
WHAT ARE YOUR AND YOUR TEAM'S GREATEST BLIND SPOTS AND HOW ARE YOU IMPROVING THESE?
Having been in the system for a long time, I started taking things for granted and at the same time I presumed that anyone else who came into the system would also take these for granted. Therefore,
I would say my blind spots are inertia and complacency. I have tried my level best to make sure that I do not get into inertia, or become complacent.
In terms of my team, as I said, many of the things we focus on have not been done at the EESL scale anywhere in the world. There is no history to refer to. The blind spot that I feel is that unless you have thought leadership and know what you're doing tomorrow, these projects will completely dissipate.
All great ideas, without any implementation, without any vision or visibility, will just fade away.
WHAT TIPS DO YOU HAVE FOR KEEPING A TEAM MOTIVATED?
Firstly, we are a government organisation so I am not able to set monetary incentives. Therefore, I struggle to answer this question. But I've been thinking a lot what other, non-monetary things I can do. What I've seen is motivation based on doing something for the community and getting the best out of it. For example, I still remember the joy on people's faces when we visited villages during our LED bulb programme back in 2014-2016. This is a big motivation for me.
Also, because we grew fast and our EESL projects became increasingly relevant in India, people at a more junior level started getting the attention of the state and the municipal bodies. This is also something that is motivating them. We also made sure that if there is a good idea, regardless of age, gender or location, this person got the full support of the management and encouragement in front of everyone.
Lastly, we try to motivate people by actively creating new opportunities abroad, but these are solely given to people based on merit and performance.
WHAT'S THE BIGGEST RISK YOU'VE EVER TAKEN?
In 2014, EESL was about 15 people strong and I was desperately looking for a product to sell. We finally came up with a programme that is now called UJALA and is one of our flagship projects. I visited a state in the South of India where we invested in 600,000 LED bulbs. The business model proposed by the state was not very lucrative. We were purchasing the LED for $5 and the government could only provide us a small part of it while asking us to sell the bulb at 1/5th of the cost. What was also challenging was providing a warranty of 10 years on the product when the industry standard was only five years. To develop a business model that met all requirements was very difficult.
At that point, the turnover of the company was a million dollars, but I went to the board with a $3 million investment. This meant I was committing three times my turnover investment, knowing very well that half of it may not come back. After about six years, almost 30% of the bulbs have failed and the annuity we are getting has gone down. But because of those 600,000 bulbs, today we have been able to achieve a turnover of about $400 million. But if we had not taken the calculated $3 million risk, we wouldn't have ever reached this. 70% of this decision was based on a gut feeling, but it was a calculated risk. A risk that had to be taken to create something new. The board looked at the fact that there was commitment, purpose and a large enough market – we just needed to unlock the first one. The board approved it and received the initial investment back in two months with a six million order from a neighbouring state.
It was 'do or die'. It was either do a project or perish but it was about doing it on the right scale.
WHICH OF YOUR LEADERSHIP SKILLS WAS THE MOST DIFFICULT TO DEVELOP?
The biggest challenge was having zero references or blueprints to follow because it was a new organisation. At EESL everything was missing – I was doing the work myself. While I was able to fulfil many roles, there were a few aspects of running a business where I was severely lacking skills such as communicating and working with external stakeholders, who were often very pushy. I'm continuously trying to improve myself on this.
WHAT'S THE MOST IMPORTANT LEADERSHIP LESSON YOU'VE LEARNED AND HOW HAS IT PROVEN INVALUABLE?
About 10 years ago, I was working in a different organisation, and my mom was ill and in and out of hospital. One day I was in a meeting and my sister was trying to get hold of me but I couldn't pick up. When my sister realised I was not able to respond, she phoned my office and mentioned that she needed four units of blood for medical treatment before my mom could be discharged. By the time I heard, four colleagues were already on their way to the hospital, without telling me.
The leadership lesson from this example is that if you are genuinely correct, if you understand people well, and you give them a transparent way of believing in themselves and expressing themselves, what you get back is much more than what you ever visualise in terms of company goals and your expectations from them.
WHAT INDUSTRY CHALLENGE KEEPS YOU AWAKE AT NIGHT?
A challenge that is becoming an existential challenge for many in the power industry in India is 'non-payment' of bills. Today, the total amount of outstanding bills – in the private and public sector in India – is more than $10 billion. That hurts in many ways – as a commercial organisation that is looking into expansion plans, or when your business has to borrow money because you are not able to collect what is contractually yours. Working capital reduces your costs and reduces the value of shareholders' money. I'm sure there are hundreds of others globally that are not able to rest in peace because of this issue.
WHAT ROLE DO YOU SEE YOU AND YOUR TEAM PLAYING IN THE ECONOMIC RECOVERY OF THE 2020 GLOBAL PANDEMIC?
EESL was created out of a challenge [installing 90,000 streetlights with LED lightbulbs after the 2014 cyclone in India, with limited time and resources] and we are one of a few who have turned a real challenge into an opportunity.
The post-COVID-19 challenge is one we are trying to turn into an opportunity. We initiated a nationwide programme to install smart meters across India. It's a model that doesn't require upfront capital investment. The incremental generation of revenue that comes up is because metering more people helps in paying back the initial investments of the smart meters. Additionally, we have focused our attention on rural areas. As a consequence of the lockdown period, a lot of people working in larger cities have moved back to their villages. We came up with a concept called 'convergence', where we started spending on rural energy infrastructure, using batteries or solar energy and providing efficient appliances to households, including light bulbs, cookstoves, fans, etc.
WHEN WE TALK ABOUT ARTIFICIAL INTELLIGENCE (AI) EVOLUTION, THE COMPLEXITIES AND INTRICACIES, WHAT ARE YOUR THOUGHTS AND FEELINGS AROUND THIS AND HOW IT WILL CHANGE THE SHAPE OF THE POWER AND ENERGY SECTOR?
AI fits well into the way the sector is transforming. I prefer to use the word 'transformation' over 'transition' because suddenly things are changing very quickly in the power sector. The sector is no longer a monolithic structure, it is democratising. When you democratise energy, the focus shifts towards the demand centres. Instead of having 20 monolithic power plants serving the entire need of the country, it could now be two million smaller power plants. With this shift, data mining becomes more important and there has to be artificial intelligence to make sure everything works together.
Access the full digital magazine
Request a copy of the print publication