22 Jan 2021
SALMA OKONKWO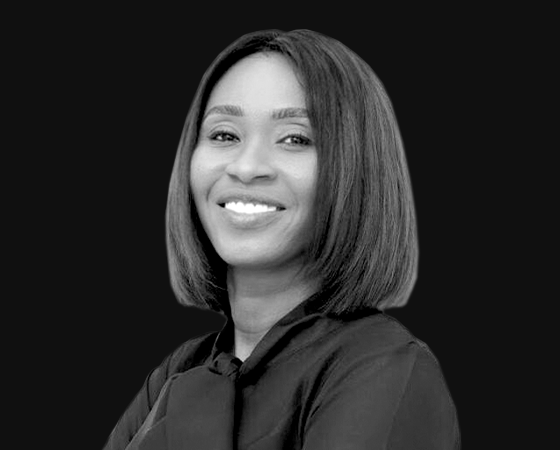 Salma Okonkwo is a senior business executive with over twenty years of experience in Africa's energy sector. Salma has deep and wide-ranging expertise in energy from oil and gas to renewable energy. Having worked extensively across oil and gas in West Africa, She founded UBI Petroleum in 2007, an energy trading business specialising in procurement, storage, marketing and distribution of petroleum products in West Africa, with a primary focus on Ghana. Her focus is now on the development of a solar power company in Ghana.
WHAT'S THE BEST BOOK YOU'VE READ THIS YEAR?
Lean In by Sheryl Sandberg. It is an inspiring read and I would recommend others to read it. It strikes a personal chord with me as it deals with gender inequality. It encourages us to create our own success stories and support each other, allowing us to remedy the problem for ourselves and the rest of the women in the workplace.
WHAT DO YOU THINK MAKES A SUCCESSFUL LEADER?
A successful leader is one who inspires and encourages the team to grow and achieve their goals. Whatever the goals are for the organisation, or whatever team you're leading, being able to inspire, secure people's buy-in and encourage them to achieve the goal is the most important attribute of a successful leader.
WHEN MEETING OTHER LEADERS, WHAT DO YOU ASK THEM?
I ask them how they have achieved an efficient and effective company culture. Creating a sustainable and efficient culture has been one of the most difficult leadership tasks from what I have heard and from my own experience. It is vital to communicate clearly about what
the goals are and create a conducive and healthy environment for working on attaining those business goals: encouraging buy-in and greater success.
WHAT ARE YOUR GREATEST STRENGHTS?
My resilience, determination, and ability to manoeuvre through uncertainty are my greatest strengths. I built several companies as a woman and without these strengths, it would have been impossible to achieve this. If you give up the first time you receive an objection you will never progress.
It is also important to nurture your internal drive and motivation to get you through all those objections that you encounter along the way. Having been on senior management and C-level, I have learned a lot from my team and other stakeholders over the years through the way they manage others, strategising and including them, helping to shape who I am today.
WHAT ARE YOUR AND YOUR TEAM'S GREATEST BLIND SPOTS AND HOW ARE YOU IMPROVING THESE?
Although my team is thorough with executing specific strategies, when we experience market changes it takes time to identify the positive and negative impacts which could impact our growth. Understanding that this is a possible blind spot, we perform constant R&D to promote continuous improvement and mitigate blind spots.
WHAT TIPS DO YOU HAVE FOR KEEPING A TEAM MOTIVATED?
It's important to have a strong and stable foundation, which includes respecting everyone enough to include them in mapping out the business goals and communicating effectively so they understand the holistic picture. When external distractions or obstacles come about that lead to possible demotivation, we always go back to our foundation, our purpose. Lastly, ensuring the team takes ownership and continuously communicating with them is what we do to keep our team motivated.
WHAT'S THE BIGGEST RISK YOU'VE EVER TAKEN?
I believe that investing in the renewable energy generation in West Africa, where we are based, without solid offtake agreements with the government is a huge risk. With this said, we have embarked on a few renewable energy projects because we believe that renewable energy is the next frontier. It's essential. Energy as we know it is a key driver in development. The Ghanaian government and most of West Africa have created policies that require an energy mix that includes solar. It includes the whole bouquet of renewables but implementing it has been quite slow. We believe that in the next two years there will be a move to formalising implementation and we want to have taken the first step and gain the advantage.
WHICH OF YOUR LEADERSHIP SKILLS WAS THE MOST DIFFICULT TO DEVELOP?
Balancing being a leader with being a friendly peer has been a challenge to get right. When this business first started, we were a small team and within three years we grew from less than $20,000 annual revenue to $40 million. As a result, we had to put structures in place and recruit middle, senior and C-level managers to build a robust organisation. From the start, it was challenging for me to find the right balance between being an executive and a friendly peer but through the learning curves, teamwork and a lot of communication, I believe I have developed this skill over time.
WHAT'S THE MOST IMPORTANT LEADERSHIP LESSON YOU'VE LEARNED AND HOW HAS IT PROVEN INVALUABLE?
Being flexible, having the ability to adapt, and delegation have been invaluable lessons and skills that I have learned. As our business started to expand, appropriate structures and processes were put in place supporting an equal spread of tasks and functions, which was previously a challenge. With effective delegation, we have created an environment that supports creativity and innovation within the team.
We have developed into an agile organisation where the team are comfortable making decisions and are quick to create solutions and adapt. Because they are included in everything from the get-go, they take ownership. I can't say enough how invaluable this has been, because now we're able to achieve our goals efficiently and adapt well. Adaptation has been the key to surviving and thriving.
WHAT INDUSTRY CHALLENGE KEEPS YOU AWAKE AT NIGHT?
Uncertain policies, accessing funding and expanding energy access are three primary challenges.
When it comes to policy, African markets are still developing policies to encourage renewable energy. These policies can change in a matter of months which makes planning difficult.
Funding is another key challenge. African energy companies are at a disadvantage since they cannot access funding with interest rates comparable to those our counterparts in developed markets get. Funding that recognises the benefits of hybrid solutions of gas and renewables is also hard to come by. Hybrid solutions would lower energy prices across the board and also drive manufacturing, which increases the value of raw materials procured locally.
Lastly, expanding energy access is a fundamental challenge. I often think of the women-owned small businesses in rural Ghana who need energy to keep a refrigerator open so that they can sell cold goods. Our ability to get these women electricity determines their economic outlook.
WHAT ROLE DO YOU SEE YOU AND YOUR TEAM PLAYING IN THE ECONOMIC RECOVERY OF THE 2020 GLOBAL PANDEMIC?
The imposed lockdown caused business to slow down, leaving people unable to generate income or revenue. Our team was able to identify ways to support small local businesses by putting a focus on developing solar power solutions in our region, creating short to medium-term energy solutions that would enable these small businesses to continue working and generate income
24 hours a day. In doing so, they'll recoup the shortfall that has been caused by the pandemic. We look forward to continuing to provide renewable energy solutions to SMEs in the Ghanaian market.
WHEN WE TALK ABOUT ARTIFICIAL INTELLIGENCE (AI) EVOLUTION, THE COMPLEXITIES AND INTRICACIES, WHAT ARE YOUR THOUGHTS AND FEELINGS AROUND THIS AND HOW IT WILL CHANGE THE SHAPE OF THE POWER AND ENERGY SECTOR?
My opinion is that AI is here to stay: AI has the capabilities to boost efficiency and has shown great benefits to support the growth of the power and energy sector. Within our organisation, we are working on developing an R&D function to gather enough data for those developing artificial intelligence-based solutions so they, in turn, can create solutions for us.
I would implore all involved, especially in our sector, to gather and share your data with those who innovate and create AI solutions because those solutions can have a direct impact on our needs.
We are currently working with universities to develop opportunities for AI in our field. The sector can only improve from generation to generation, and even though it might seem the workforce is being replaced by AI, it is the workforce that is building these programs, and it's the workforce who is creating the data that has to be analysed. Overall, I see great potential for synergy and collaborative development.
Access the full digital magazine
Request a copy of the print publication