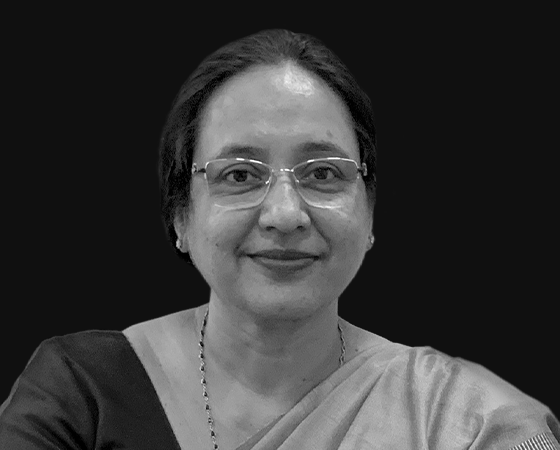 Kumud Wadhwa has more than 30 years of cross-domain experience in the Indian power sector, spanning project planning and management for EHV transmission projects, IT projects and smart grid projects in distribution. Kumud did her MBA in Information Systems from MDI and Electrical Engineering from NIT Kurukshetra.
WHAT'S THE BEST BOOK YOU'VE READ THIS YEAR?
One of the best books I have read is Our Iceberg Is Melting by John Kotter, who is a professor at Harvard Business School. The book is about changing and succeeding under any conditions. This I can relate to closely because my role is also to be a change leader. The story is about denial, fear, resistance to change, overcoming obstacles, heroism, and ultimate success, which is very relevant to the day-to-day organisational challenges we face, especially during the current COVID pandemic. I would recommend this book to everyone who is looking forward to change, which is almost inevitable in today's rapidly changing world.
WHAT DO YOU THINK MAKES A SUCCESSFUL LEADER?
A successful leader should have goal clarity, closely followed by empathy and effective communication skills. Whatever actions we take, we must motivate others and set an example forthem to follow. Leaders should not fall into the fray of decision paralysis. One cannot be 100% sure whether a decision will be the right one; sometimes a calculated risk needs to be taken for maximising the socio-economic 'VALUE' based on available data, information and options.
WHEN MEETING OTHER LEADERS, WHAT DO YOU ASK THEM?
I generally start talking about what new activities and developments are happening in their domain and how they relate to these new developments. Further discussions may lead to what challenges they are facing and how they address those challenges.
WHAT ARE YOUR GREATEST STRENGHTS?
I am an ardent follower of principle-centered leadership based on fairness, equity, justice, integrity, honesty and trust. I focus on a holistic approach, connecting the dots to figure out the bigger picture before moving forward. Problem-solving and continuous learning are my two other strengths.
WHAT ARE YOUR AND YOUR TEAM'S GREATEST BLIND SPOTS AND HOW ARE YOU IMPROVING THESE?
Being an idealistic person, I sometimes face practical hindrances in the execution of new ideas. With my team, I find people are mostly constrained by their departmental boundaries. When they are performing they are limiting themselves to their departments or functional role, which does not help them to see the bigger picture.
If we change our focus from output to outcome, which is a general requirement for any business process to be effective, we can get great results. For that change to happen, one needs to articulate some real-life examples so that people understand how change impacts and benefits them.
WHAT TIPS DO YOU HAVE FOR KEEPING A TEAM MOTIVATED?
Team motivation is largely driven by empowerment and decentralisation with proper delegation of authority and accountability. I am always available for guidance and mentorship. It is also important to communicate expectations and appreciate when people perform at their best. The Pygmalion effect, which is very popular management jargon, also talks about how – if we appreciate them – people can deliver on our expectations.
WHAT'S THE BIGGEST RISK YOU'VE EVER TAKEN?
Professionally, the biggest risk I took was to design the smart grid pilot programme in 2011. At that time, India was at a very different stage where the majority of people did not have access to electricity, with a low per capita consumption of electricity. To implement smart grids, large investments were required for technology intervention and information communication tools. The question was how to keep the balance between short-term priorities of energy access and futuristic technology interventions for sustainable economic development.
My focus was on how we should be able to leverage the latest technology innovations and meet some of the country's priorities. Based on the objectives and outcomes, we needed a design and country-specific use cases around smarter grid functionality. Utilities in different areas could select from the suggested use cases and corresponding smart grid solution to address their specific requirements. This allowed connecting their needs with the best technology options – a vital part of that smart pilot template design.
That was a big risk in terms of how we designed the pilot, and the way we communicated with the stakeholders and evaluated the right partners to accept and implement the innovative smart grid solutions. We had some success stories of pilot implementation at CESC Mysore, UGVCL Gujarat and many more, that are also globally acknowledged.
On a personal note, in 1985 when I had to choose a career, females in India were only pursuing medicine or teaching as their career option whereas I was considering engineering, a big risk in a male-dominated sector in those days. There were a lot of negative feelings towards females in the engineering field. But there was a great desire in me to pursue engineering as the career I had dreamt of, to contribute meaningfully to the country. Ultimately, I came out with flying colours.
WHICH OF YOUR LEADERSHIP SKILLS WAS THE MOST DIFFICULT TO DEVELOP?
Stakeholder management for accepting the change ideas. One should not lose track of the bigger picture as this keeps one on track to continue to deliver even if there are some temporary hurdles.
WHAT'S THE MOST IMPORTANT LEADERSHIP LESSON YOU'VE LEARNED AND HOW HAS IT PROVEN INVALUABLE?
One needs to persevere irrespective of whether the short-term rewards are there or not. As someone said, we do not live in bungalows, duplexes or flats, we live in our minds, which are unlimited areas. We should keep our thoughts sorted and uncluttered in our mind. To perform well in life and every arena, one should be able to control the quantity and quality of the internal dialogue, as our performance equals potential minus internal conflicts.
WHAT INDUSTRY CHALLENGE KEEPS YOU AWAKE AT NIGHT?
Energy losses and a lack of customer focus are two of the biggest challenges in the power and energy sector. Neither the service provider nor the consumer is happy. Distribution companies in India are losing around one rupee for each unit served. The consumer is unhappy because many of them are not receiving the quality of service they are supposed to receive at the price they are paying. It's about managing both in a way that produces a win-win situation.
The most ideal situation for becoming customer-centric would require us to further decentralise while decarbonising and becoming more digital. If we could decentralise further in India, multiple distribution companies could serve more consumers across a bigger area. By creating smaller units, which are functionally autonomous and with proper market segmentation based on needs and interests, we could deliver better service at an affordable price.
A new market must emerge in the service delivery business so that consumers are also given choice. This will ensure they get the quality of service they want and will pay for accordingly.
WHAT ROLE DO YOU SEE YOU AND YOUR TEAM PLAYING IN THE ECONOMIC RECOVERY OF THE 2020 GLOBAL PANDEMIC?
Our role currently is to support industry growth and increase consumer penetration for economic growth by serving consumers with the right quality of electricity at the right price and at the right time. Another important dimension at this stage is that electricity should be delivered on a sustainable basis: we need to decarbonise. The conventional large thermal power stations should not be the only source of electricity; we need to promote mini-grids or decentralised energy solutions in the form of solar rooftops in combination with energy storage that can serve the local requirements. Renewable energy will grow the economy by providing affordable electricity to serve a variety of needs. This will also create alternative jobs and allow for different new business options in the rural sector. Another important role will be to support Distributed Renewable Energy projects by connecting relevant stakeholders with international expertise available as part of communities like ISGAN.
WHEN WE TALK ABOUT ARTIFICIAL INTELLIGENCE (AI) EVOLUTION, THE COMPLEXITIES AND INTRICACIES, WHAT ARE YOUR THOUGHTS AND FEELINGS AROUND THIS AND HOW IT WILL CHANGE THE SHAPE OF THE POWER AND ENERGY SECTOR?
AI is the ultimate data-driven solution, and we have miles to go before a dependable AI solution for the sector can be evolved. It's a complex function of simulation and experienced user interaction and in the absence of a robust solution can boomerang.
Within the Indian context, AI function can support demand response with behind-the-meter solutions.
Several smart devices together with battery storage and solar generation allow every household to be a mini-grid in itself. In the near future, electricity bills will be a function of time as well, because there may be different tariffs at different times of day for the end consumer. AI-based solutions can provide automated decision-making by setting priorities which will help the consumer to decide what energy to use, to what extent to use it, and what time to use it to achieve the desired performance and maximise customer value.
Another area where artificial intelligence can help is with the overall optimisation and determination of tariff options, especially concerning the use of renewable energy during peak times. The objectives and constraints may be assigned some value to discover the impact on tariffs based on a goal optimisation programme. This process could help the utility to serve its customers better on a sustainable basis.
Access the full digital magazine